Dr Jamie Nelson – Dentist
bds GDC Number 228569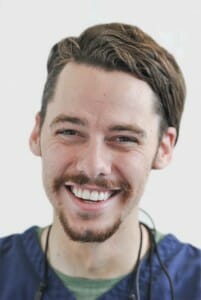 Our dentist with a special interest in Cosmetic Dentistry, Immediate Veneers and a Masters degree in Root Canal Treatment. (Endodontics).
Jamie has been with us 6 years now, having qualified from King's College London in 2012.
Having been invited onto the internationally renowned Vanini Masterclass in Como Italy, Jamie developed a passion for making his patients feel better about themselves by transforming their smiles using minimally invasive techniques like cosmetic bonding, reshaping and immediate composite veneers.
Many of Jamie's patients want straight white teeth without having to wear braces for months or years and without needing to drill down teeth to make space for crowns. Using the latest cosmetic dental technology outstanding results can often be obtained in just one sitting.
He is a board member for Creative Innovations in Cosmetic Dentistry (CICD).
One of Jamie's recent cases – completed in 1 session
Before/After