Photos
Jo: replaced old front crowns with all ceramic cosmetic crowns
Toby: cosmetic crowns, implants, veneers
Keeley, below, came to us because she had become so conscious of her gummy smile, poor quality front crowns and in-standing incisors that she had taken the habit of covering her mouth when she smiled and laughed.
Having spent some time talking with Keeley to find out exactly what she didn't like about her smile and what she wished to change, we got to work. The first part of the treatment involved putting white posts into the lateral incisors because the old metal posts were making the roots and gums around these teeth grey.
At the same time we performed some minor surgery to move the gums up the teeth so that the gumline was then symmetrical: the teeth showed more and the gums showed less then. Finally the lateral incisors were fitted with all porcelain crowns and the in-standing central teeth had veneers bonded onto them. Keeley was delighted!
Julie: gum treatment, whitening, all ceramic cosmetic crowns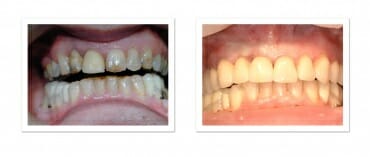 Eileen: replacement of all upper teeth and lower molars with implant teeth
Sarah:replaced old front crowns with all-ceramic cosmetic crowns, whitening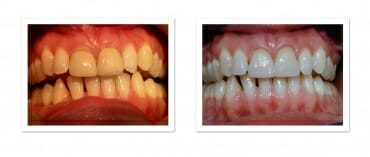 Hollie: single central incisor veneer, whitening, which one is the veneer?
George had a number of failing teeth in both upper and lower jaws. Using a combination of implant teeth, bridge teeth and a denture we were able to give him back full use of his teeth and make him smile again. Literally…..