Cosmetic Dentistry
Cosmetic Dentists Essex
We are a practice of cosmetic dentists in Romford and Brentwood Essex. With a full range of treatments to enhance the smile, Winning Smiles were one of the first truly cosmetic dental clinics in the area.
Smile design is a cosmetic philosophy encompassing a 'Whole Smile' approach to improving your appearance. Originally developed in the States, the Cosmetic Dentist works in partnership with the Patient and the Master-Ceramist.

Our recent innovative treatments, such as full sets of Veneers, combine the latest composite materials with the best techniques studied from the best, all over the world.

There are many ways to straighten the teeth, from simple front teeth custom veneers to white or traditional coloured braces or completely invisible aligners.

Porcelain is the closest material to the natural tooth. It has that wonderful ability to allow light to shine through, for the very best in appearance and longevity.
The invisible aligner system is clearly a winning combination of effective teeth straightening with discretion and comfort, the ability to remove them when needed.
Cosmetic Refresh
Redesigning the smile can go as quickly or slowly as you want to go. Not everything has to be done at once, a great start is to refresh the smiles as it is, and go from there. A journey begins with a single step
Teeth whitening (aka teeth bleaching) is something that you might expect from one of the more established cosmetic dental clinics in Romford.
Our Cosmetic Dentists have seen over the years is that dental bleaching/whitening does not work on teeth that have very heavy stains covering the enamel surface pores.
This chap said he had been hiding his smile for years. His main issue was the general yellowness of his teeth and an old filling in the upper central incisor.
Feel free to browse a gallery selection of our before and after
Cosmetic Dentistry case studies
Cosmetic Dentistry Short Price List
| Veneers | Member Pricing From |
| --- | --- |
| Immediate Veneers | £435 |
| Ceramic Veneers | £820 |
| Treatment Type | Member Pricing From |
| --- | --- |
| Whitening | £330 |
| Airflow Stain Removal - All Teeth | £35 |
| New Patient Examination + two x-rays | £130 |
| Routine Examination | Included |
| Routine Small x-rays | Included |
| OPG (Large Panoramic X-ray) | £105 |
| Full Case Assessment - Implants | £175 |
| CT Scan | £180 |
| Treatment Type | Price |
| --- | --- |
| Teeth Whitening | £330 |
| Airflow Stain Removal - All teeth | £35 |
| New Patient Examination | £90 |
| Crowns & Bridges | Member Pricing From |
| --- | --- |
| Post Prior to Crown | £180 |
| Core Prior to Crown | £100 |
| Cosmetic Crown | £820 |
| All Ceramic Crown | £920 |
| Temporary Bridge, per tooth | £386 |
| Instant Crown | £330 |
| Implant Bridge 3 teeth | £2,900 |
| 3 unit bridge Impressions | £2,450 |
| Inlay prep and impressions | £820 |
| Invisalign Braces | Price |
| --- | --- |
| Full Case Assessment | £215 |
| < 30 aligners | £3245 |
| > 30 aligners | £3850 |
| Trutain Retainers | £150 |
| Children's Treatment | Member Pricing From |
| --- | --- |
| Children (0-16) | |
| Examination (under 5 years old) | FREE |
| Examination (6-16 years old) | £35 |
| Routine Hygiene | £40 |
| Extraction of Deciduous Tooth | £40 |
| Fissure Sealant | £29 |
| Deciduous Filling | £37 |
| Permanent Filling as per adult fees | |
Free Consultation Request
Without seeing things for ourselves, we can't tell people what their options are.
And so with that in mind, we are happy to offer free consultations, as this is a big decision for most people. We are careful to take budget, comfort and appearance into account when explaining all the available choices and there is never any pressure to proceed, and certainly not on the day.
We set out to be a friendly practice and try to provide everybody with what's right for them, at an affordable cost. We hope our dentist reviews give that impression.
Location and Directions
Our location, in Romford, and near Brentwood Essex. 1 The Parade, Colchester Rd, Romford. RM3 0AQ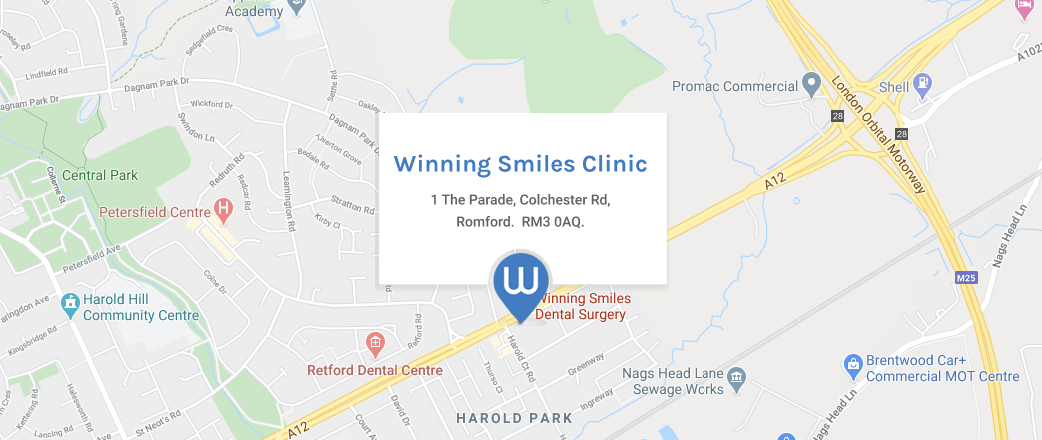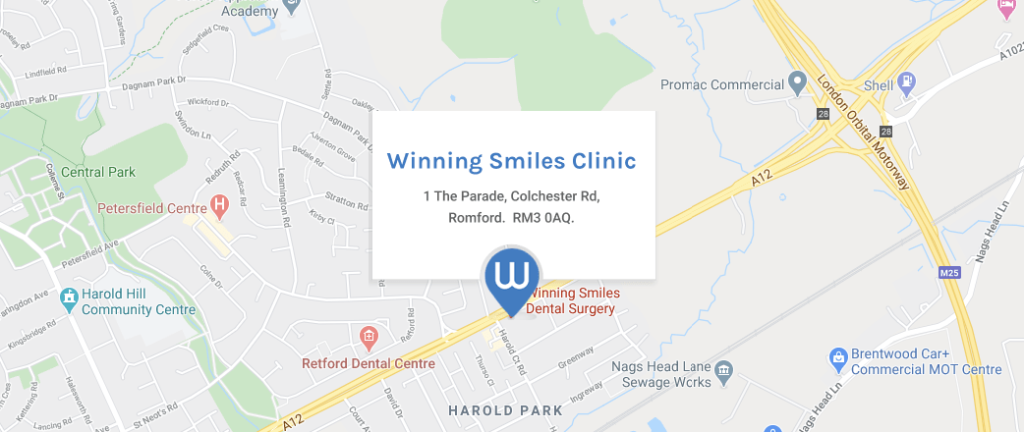 What they say about us
Without reservation, recommending Winning Smiles
I had several upper crowns and a bridge fitted 15-20 years. ago. I thought my teeth could look better.
From my first visit, this was the practice for me and I didn't even consider looking elsewhere. Everyone was so friendly and efficient.
I first saw Alex and subsequently Andrew. Due to medication, implants are not a recommended option for me.
Andrew has replaced my crowns, added a couple more and replaced the bridge. He suggested the new be a tiny fraction longer than the old ones, saying to see more teeth when I spoke and smiled would be a nicer look – of course, he is right!
Throughout the whole process, Andrew was patient, informative and explained everything.
He happily answered all my questions even the ones I knew were quite trivial. I was expecting some pain but there was absolutely none even at my 5 hour+ appointment! Anyway, I already trusted Andrew to know he would not have let me suffer any pain.
I am so happy with what Andrew has achieved. I feel he does everything possible to give the best smile possible by telling his patients what he can do but equally important what he can't do.
Alex did some cosmetic fillings and arranged some bleaching which has made a big difference to my (own) bottom teeth. This and everything Andrew has done leaves me, without reservation, recommending Winning Smiles. Thank you!
Dental Services: Cosmetic Dentistry, Invisible Fillings, Teeth Whitening, Porcelain Crows
One Hundred Percent Recommended
Absolutely Fantastic Team. I would 100% recommend Winning Smiles, from the minute I walked in I knew that is where I wanted my Dental Work to be done after trying various other Clinics. Andrew is amazing and I felt very comfortable throughout my treatment. Thanks to all the team there.