Cosmetic Dentistry
Cosmetic Dentists Essex
We are a practice of cosmetic dentists in Romford and Brentwood Essex. With a full range of treatments to enhance the smile, Winning Smiles were one of the first truly cosmetic dental clinics in the area.
Smile design is a cosmetic philosophy encompassing a 'Whole Smile' approach to improving your appearance. Originally developed in the States, the Cosmetic Dentist works in partnership with the Patient and the Master-Ceramist.

Our recent innovative treatments, such as full sets of Veneers, combine the latest composite materials with the best techniques studied from the best, all over the world.

There are many ways to straighten the teeth, from simple front teeth custom veneers to white or traditional coloured braces or completely invisible aligners.

Porcelain is the closest material to the natural tooth. It has that wonderful ability to allow light to shine through, for the very best in appearance and longevity.
The invisible aligner system is clearly a winning combination of effective teeth straightening with discretion and comfort, the ability to remove them when needed.
Cosmetic Refresh
Redesigning the smile can go as quickly or slowly as you want to go. Not everything has to be done at once, a great start is to refresh the smiles as it is, and go from there. A journey begins with a single step
Teeth whitening (aka teeth bleaching) is something that you might expect from one of the more established cosmetic dental clinics in Romford.
Our Cosmetic Dentists have seen over the years is that dental bleaching/whitening does not work on teeth that have very heavy stains covering the enamel surface pores.
This chap said he had been hiding his smile for years. His main issue was the general yellowness of his teeth and an old filling in the upper central incisor.
Feel free to browse a gallery selection of our before and after
Cosmetic Dentistry case studies
Cosmetic Dentistry Short Price List
| Veneers | Member Pricing From |
| --- | --- |
| Immediate Veneers | £435 |
| Ceramic Veneers | £820 |
| Treatment Type | Member Pricing From |
| --- | --- |
| Whitening | £330 |
| Airflow Stain Removal - All Teeth | £35 |
| New Patient Examination + two x-rays | £130 |
| Routine Examination | Included |
| Routine Small x-rays | Included |
| OPG (Large Panoramic X-ray) | £105 |
| Full Case Assessment - Implants | £175 |
| CT Scan | £180 |
| Treatment Type | Price |
| --- | --- |
| Teeth Whitening | £330 |
| Airflow Stain Removal - All teeth | £35 |
| New Patient Examination | £90 |
| Crowns & Bridges | Member Pricing From |
| --- | --- |
| Post Prior to Crown | £180 |
| Core Prior to Crown | £100 |
| Cosmetic Crown | £820 |
| All Ceramic Crown | £920 |
| Temporary Bridge, per tooth | £386 |
| Instant Crown | £330 |
| Implant Bridge 3 teeth | £2,900 |
| 3 unit bridge Impressions | £2,450 |
| Inlay prep and impressions | £820 |
| Invisalign Braces | Price |
| --- | --- |
| Full Case Assessment | £215 |
| < 30 aligners | £3245 |
| > 30 aligners | £3850 |
| Trutain Retainers | £150 |
| Children's Treatment | Member Pricing From |
| --- | --- |
| Children (0-16) | |
| Examination (under 5 years old) | FREE |
| Examination (6-16 years old) | £35 |
| Routine Hygiene | £40 |
| Extraction of Deciduous Tooth | £40 |
| Fissure Sealant | £29 |
| Deciduous Filling | £37 |
| Permanent Filling as per adult fees | |
Free Consultation Request
Without seeing things for ourselves, we can't tell people what their options are.
And so with that in mind, we are happy to offer free consultations, as this is a big decision for most people. We are careful to take budget, comfort and appearance into account when explaining all the available choices and there is never any pressure to proceed, and certainly not on the day.
We set out to be a friendly practice and try to provide everybody with what's right for them, at an affordable cost. We hope our dentist reviews give that impression.
"*" indicates required fields
Location and Directions
Our location, in Romford, and near Brentwood Essex. 1 The Parade, Colchester Rd, Romford. RM3 0AQ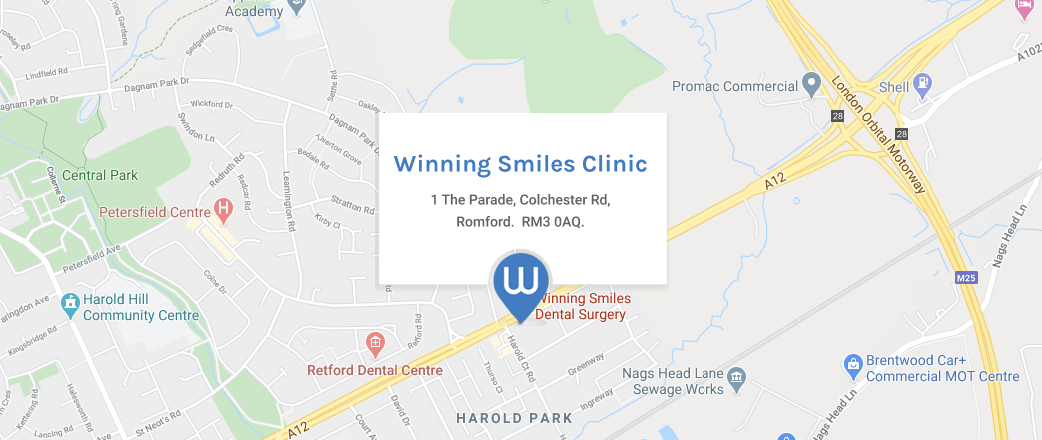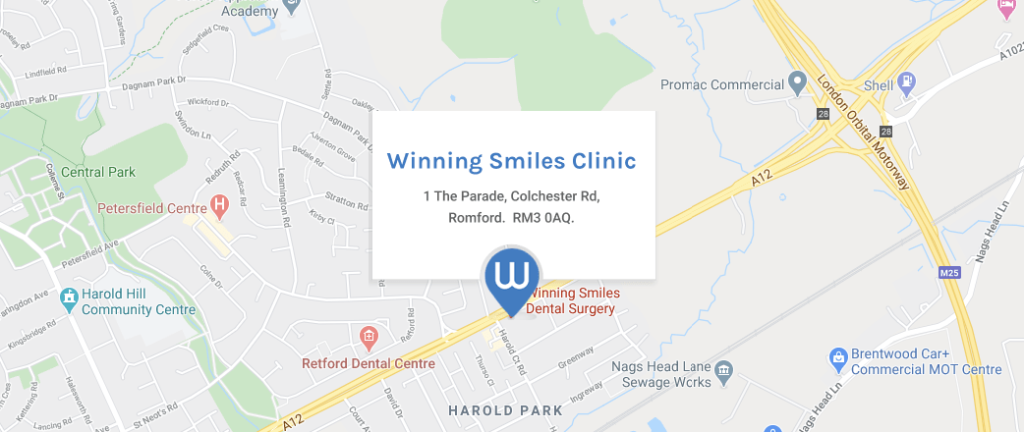 What they say about us
Rob – Rebuilding my Smile
After two weeks with my fab new smile, I feel inspired to share my experience.
From my first meeting and consultation with Andrew Fennell, I felt comfortrouble and at ease, a first for me I'm afraid, previous dentists must have studied at Dewhurst I think, nuff said.
I had a series of missing, loose and broken crowns, and my smile had disappeared and distorted over time. Andrew offered different options to rebuild the smile, we worked out the most cost effective way in my case would be a bridge, great, compared with dentures I was offered everywhere else this was fantastic and I was very happy to start treatment.
Winning Smiles attitude to pain management must be commended! That for me was a very big fear and what kept me away from a dentist for too long. The painless injection system used by Andrew was the most reassuring experience possible, from then on I was happy to go through hours of work and even have a laugh during treatment at times, amazing. Other patients reading this will know what I mean when I talk about the synergy between Andrew and his nurses during treatment, it's almost like going to a gig with the level of intuition and communication on display, and has changed my mind about dentists forever (well some anyway).
So having also seen Andrew blow a mean blues harmonica, I can understand this better!
The skill and communication on display between Andrew, and the entire team are what makes Winning Smiles brilliant. The atmosphere, the statue, the smiles on the faces of other waiting clients, just make the whole experience really enjoyable.
My smile recommends Winning Smiles to everybody I meet. Thank you all and see you soon no doubt for hygienist and other delights. 

Dental Services: Cosmetic Dentistry, General Dentistry, Hygiene, Dental Implants, Painless Dentistry, Porcelain Crowns, Smile Design
To cap it off
I now love dentists!
One of my friends who used to be a dentist was honest enough to tell me how awful the old cap on my front tooth looked so I went to see the Winning Smiles team and came out with a brand new smile.
I am so pleased. What took me so long.