Dental Implants
Dental Implants Centre
We provide the broadest range of Dental Implant and Denture services. We also consult for other dentists across the county and into London.
Many people have been told in the past that they are not suitable for dental implants. But as we are able to treat almost any case, people come to us from all over the country for their brand new smile.

From Immediate Teeth Replacement to Full Jaw Replacement with our transformational 'Teeth in a Day', we have the experience and the latest developments to suit everyone. Easy to find, near the M25

As Single Dental Implants get ever more advanced, they bring a real improvement in the quality of life. Act quickly if you lose a tooth

Innovative same day full jaw teeth replacement. Restore the quality of life with our implant based system, they look and feel like your own teeth.
Andrew Fennell leads the dental implant team to deliver same day full mouth dental implants.
Replacing teeth can transform lives. It's not only the ability to smile with complete confidence that brings joy, for some people it means being able to eat properly again.
It's a privilege and very satisfying to be able to help.
The WeldOne Dental Implant system allows us to deliver a bespoke Same Day Teeth Replacement Service.
This revolutionary new technique is mostly used for full arch, whole jaw new teeth, although it is also suitable for partial jaw treatments.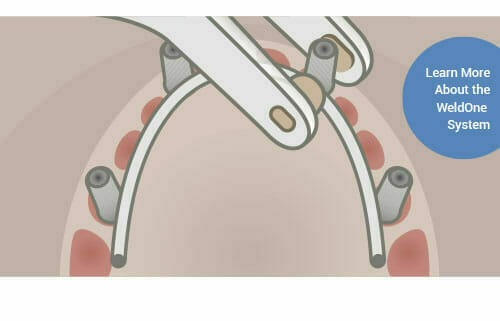 Without seeing things for ourselves, we can't tell people what their options are.
And so with that in mind, we are happy to offer free consultations, as this is a big decision for most people. We are careful to take budget, comfort and appearance into account when explaining all the available choices and there is never any pressure to proceed, and certainly not on the day.
We set out to be a friendly practice and try to provide everybody with what's right for them, at an affordable cost. We hope our dentist reviews give that impression.
Benefits of Dental Implants
The best Implants are solid, long lasting and can look and actually feel like your own teeth.
Brilliant Stability
Attached to the bone, dental implants give replacement teeth complete stability, particularly compared to the older methods such as gum mounted lower dentures. In many cases, the only thing worse than dentures is having no teeth at all.
Long Lasting
Although maintenance is just as important for Dental Implants as for your own teeth, with the proper care and attention, Dental Implants are proven to last for decades. And the failure rate of dental implants is extremely low, particularly for established systems.
Understanding Implant Options
There is a lot of 'dental speak' around the subject of Dental Implants, some explanations below:
How to Choose
If you aren't sure which method is best for you then our guide will help you choose. Click below to find out more:
Location and Directions
Our location, in Romford, and near Brentwood Essex. 1 The Parade, Colchester Rd, Romford. RM3 0AQ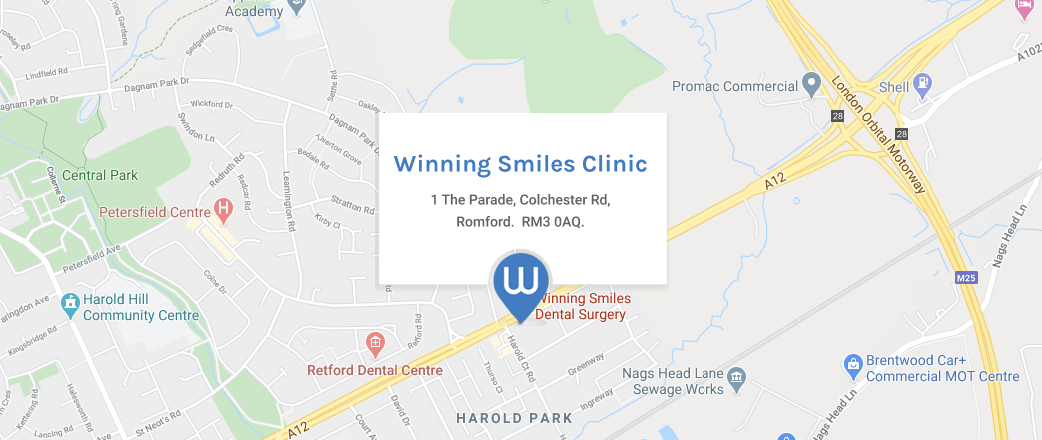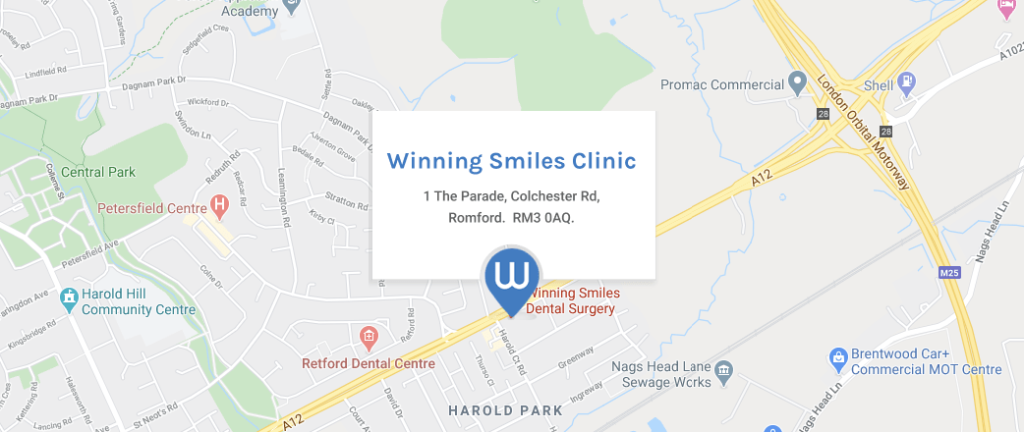 What they say about us
Barbara – No longer the Chair of Doom
Hi, i am almost at the end of my implant surgery. I have had a front tooth and one just to the side done so it was obviously very important that the implants looked good, matched the colour of my other teeth and looked like my own teeth. They do look good, they do match and they do look like i grew them myself!
Without wishing to bore you with my dental phobic history; i was a gibbering wreck, i couldn't go to work on the days i visited the dentist and quite often couldn't go the day after either!
I would guess that i must have been one of the worst cases that Andrew and his team have encountered; whimpering, yelping, whining and unable to breath – and that was just in the waiting room.
However, since finding Andrew: oh happy day, i am a changed woman!
I no longer have the fear, no longer call the dentist chair 'the chair of doom' and can go to work both before and after treatment….on the same day!
Not only has he worked miracles with my teeth he has also stopped me being terrified….no mean feat!
The team who work with him are equally great and deserve much credit as well.
If you are petrified i can only say go see him. He and the team will sort out your teeth and your fear.
Dental Services: Dental Implants, Single Dental Implants, Full Mouth Dental Implants, Painless Dentistry
Carol R – Making patients smile again
After having five old teeth removed I had a real confidence issue when out with friends or family. I always felt self conscious about smiling, as this would show the gaps in my teeth. So I went along to see Andrew who was very understanding and explained in great detail what he could do and how long the work would take.
I felt so confident in Andrews advice that I decided to have five new implants and some additional work started as soon as possible. Now after 6 months i have the smile i always wanted and feel more confident in public. I can't thank Andrew and the staff at winning smiles enough for all the help and support they have given me.
Dental Services: Painless Dentistry, Single Dental Implants