Approx time to read: 2 mins
I wrote earlier today about white fillings. They are supposed to restore the natural beauty and strength of a damaged tooth.
But all too often they are neither beautiful nor strong…..
The problem is: amalgam fillings (the grey metal ones) are a doddle to fit. They are technique-insensitive. Because they are so forgiving, they tend to last a long time regardless of the skill of the operator (within reason).
In contrast, every step in the process of providing white fillings (from buying the right material through to polishing and finishing) is way more complex than it is for a comparable amalgam.
If you roll up a ball of cheap white filling material and squash it into a roughly prepped hole in the tooth: appointment time: 10 mins. Cost: £50.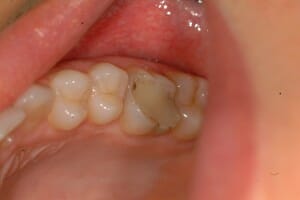 The patient is 'happy' – they got a 'cosmetic' filling in 10 minutes for £50…..(the same patient is not so happy when that filling fails 2 years later and they then have to shell out £500 for a crown!).
Look at the picture of the old filling above (we removed it from a new patient): note how it is getting brown around the edges. Decay carries on merrily under the filling but nobody notices because it usually happens underneath. The result is root canal treatment if it is caught early, but extraction if not.
So here's a picture of the Winning Smiles replacement white filling. Hard to spot the joins?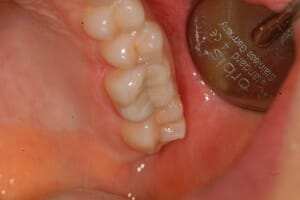 Producing natural looking, strong white fillings that last for more than 10 years does take more than 10 mins and costs more than £50.
However that 10 minute white filling could cost a patient the whole tooth!