Dr Andrew Fennell
BDS GDC Number 78419
Dr Andrew Fennell is the clinical lead at Winning Smiles.
Andrew is our full-time implant dentist. His passion is transforming the lives of his patients who had often lost hope before meeting him and embarking on a journey together. Andrew says there is always a way!
Dr Andrew Fennell is the clinical lead at Winning Smiles.
He leads the Winning Smiles team while devoting his clinical time to cases involving dental implants, crowns and full mouth rehabilitation, restoring beauty and function to patients with complex problems.
He routinely carries out immediate implants for single teeth and full mouth teeth replacement at his dental surgery in Romford, Essex. We carry out all modern techniques, such as bone grafting and fitting both fixed and removable (implant denture) teeth.
Andrew has worked at Winning Smiles for 20 years and has been involved in implant dentistry since 2004, placing thousands of implants successfully. His focus is always on long-term success, so we use only the best implant system and work with the best dental technicians.
One of Andrew's Recent Cases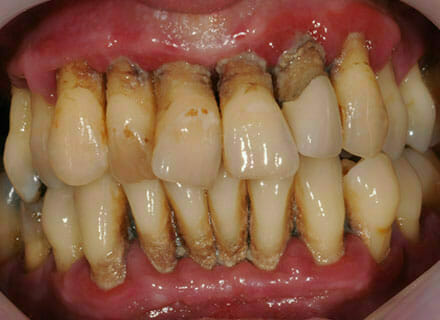 Failing teeth from Gum/Periodontal disease
This lady had all three. Within 2 months we had fixed a whole new set of teeth in place using Implant retained dentures upper and lower. Implant dentures are the most cost effective way of replacing a full jaw or arch of teeth or a whole set.
Why Choose Winning Smiles?

Advanced Dentistry
We strive to keep up to date with all modern digital dentistry techniques and equipment. Our surgeries are unrecognisable from a few years ago. The precision we can achieve means longer-lasting treatments.

Orthodontics
The art and science of Orthodontic teeth straightening is one of our particular interest subjects. We do whatever we can to preserve natural teeth and give new life to smiles with cosmetic enhancements when needed.

Innovative Dentistry
Innovative dentistry is one thing we love. The industry is still developing new techniques, procedures and materials. When backed by studies, we are keen to adopt anything that improves our dentistry for patients.

Natural Teeth Beauty
Preserving the teeth is our foremost concern; they really can last a lifetime with a mixture of luck, planning and careful treatment. We would rather preserve a tooth by all means necessary than remove them to make our work easier.

Gentle Dentistry
Taking the time you need is the best way to manage pain. We never rush. We are friendly and conversational, watching for your feedback and checking with you at every step. Nervous patients can feel at home here.

Confidence and Joy
We notice how the treatment of the teeth makes people feel; confidence is the most noticeable aspect of a great smile. We think the ability to smile more is underestimated – it makes us all nicer to be around.
FREE Dental Consultation
Without seeing things for ourselves, we can't tell people what their options are.
And so with that in mind, we are happy to offer free consultations, as this is a big decision for most people. We are careful to take budget, comfort and appearance into account when explaining all the available choices and there is never any pressure to proceed, and certainly not on the day.
We set out to be a friendly practice and try to provide everybody with what's right for them, at an affordable cost. We hope our dentist reviews give that impression.