At Winning Smiles, we provide full sets of dental implants to replace all the teeth in a jaw, as well as for single missing teeth, or a few missing teeth. For more cosmetic needs we also provide Full Sets of Veneers.
If you would like a free consultation, please use the form and we can get you booked in.
Full Sets of Dental Implants
These are designed for the purpose, full sets of Dental Implants all connected to an individually designed titanium frame which is immune to decay and ultra strong.
Using the very latest WeldOne implant techniques we build a customised and personalised frame for the jaw, which achieves the ultimate strength required to enable the same day fitting of the final teeth.
The Strongest Frame
Connecting the 'jaw implant posts' to this frame provides an incredibly secure base on which we can fit either porcelain or acrylic teeth to replace the ones you have lost.
This unique stability means that patients leave the clinic with their final full set of replacement teeth just hours after they arrive, no temporary solutions are needed.
Our Dental Implantologist
Andrew Fennell leads the dental implant team to deliver same day full mouth dental implants.
Many people have been told in the past that they are not suitable for dental implants. But as we are able to treat almost any case, people come to us from all over the country for their brand new smile.
Immediate Dental Implants?
As well as treating people who know what they need, many are not sure. If you are worried you may be about to lose all or some of your teeth, please talk to us, as we can help. Acting sooner can often slow deterioration, and in some cases save lots of time.
Things are likely not as bad as you think, and we are always happy to guide you through the range of solutions, as quickly or slowly as you need to go.
Below is as much information as we can muster with some photos and costs.
Our three treatment options to replace all the teeth in the upper or lower jaw (or a complete set)
Option 1: Implant retained dentures
Cost from £5,000 (Lower Jaw)
Cost from £9,000 (Upper Jaw)

Using implants to secure a special type of implant denture is the most cost effective way of replacing all the teeth in one jaw. Implant-dentures rest on the gum but have 2 or 4 implants to hold them in place addressing one of the major problems that patients talk about with normal dentures – the fact that they simply won't stand still!
NB: The difference in costs between the lower and the upper jaw is because we need to fit twice as many implants in the upper jaw. The bone isn't as strong, and the denture needs extra support.
Implant dentures stay firmly fixed in place and allow you to eat hard foods again and talk with the confidence that they won't fall out mid-sentence!
Option 2: Titanium-Acrylic permanently fixed implant bridge teeth
Cost from £12,500 (lower jaw)
3D digital imaging enables us to create custom titanium frameworks with a full set of acrylic upper or lower teeth fixed permanently to them. The full set is then screwed into place onto your implants.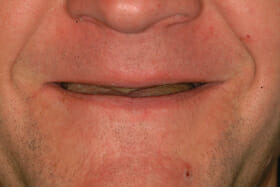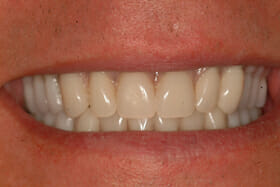 Advantages
• This is a very cost-effective option because the additional strength provided by the titanium bar means that fewer implants are required than for a full set of porcelain teeth.
• We use off-the-shelf acrylic teeth which are far less expensive than custom-made porcelain ones but still look very natural (see photos)
• A full set of porcelain teeth will take more than a week to replace or repair in the event of an accidental breakage: acrylic teeth can be fixed same day.
Option 3: Porcelain implant bridge teeth on implants
Cost £18,000
In this treatment option, Winning Smiles use Harley Street technicians to create a top of the range, bespoke set of porcelain teeth for you. In our view, cheap porcelain bridge teeth are not worth considering. They actually look far less attractive than well made acrylic teeth, so if money is an issue, acrylic teeth (which can look stunning nowadays) are well worth considering.
Custom-made porcelain teeth rest on 4-5 implants. This provides each jaw with enough strength to support a full set of 10-12 teeth.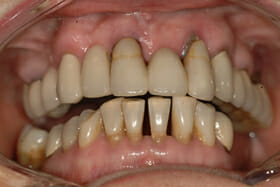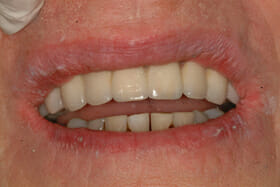 Advantages
As well as looking beautiful, there is only a very small area of contact with the gum. This makes cleaning easy and can look very realistic if the gums are in good condition and there has not been a lot of bone shrinkage
Does it hurt?
The most surprising thing about Dental Implants is that there is very little pain. It looks like it should hurt, but the reality is that most dental pain is caused by touching a nerve on a live tooth. In this instance, we're removing teeth entirely, so whilst there is some discomfort, we are extremely careful with all of our pain management at Winning Smiles. We take the time and give all our consideration, and never rush.
While the operation is being carried out your jaw is numbed so that you don't feel any pain. You can also choose to be sedated if you wish. In our experience, if you have one or two implants inserted, you will be able to go back to work or to resume normal activities on the same day.
If you have multiple implants, or a full jaw is being treated, you will need a couple of days' recovery time as you would with any other operation.
What material should you choose?
Acrylic dentures have made this option more affordable, and at the same time they now last longer, are less likely to sustain damage and are more easily repaired.
The reason acrylic teeth are less expensive than porcelain, is something to do with material but more importantly acrylic is easier to manufacture, it requires less manual input and is more forgiving in terms of damage.
In other words, it is that porcelain has so much manual labour input that makes them expensive, it is a difficult material to repair, and replacement is the more likely result of damage.
However, porcelain does retain an incredible lustre for long periods of time, so as always, it is a balance between appearance and function.
What does the treatment involve?
After an initial free consultation to find out whether dental implants are the right treatment for you, we carry out an immediate detailed assessment and x-rays using our specialist low-dose dental CT scanner.
Having the CT scanner in-house at Winning Smiles prevents costly hospital CT referrals (up to £600!)
We will provide a written assessment and include all the costs, so there are no surprises.
Who is the treatment suitable for?
Dental implants are the perfect solution in a range of situations. They may be just what you are looking for if:
you have just lost one or more teeth;
you know you are about to lose one or more teeth;
you are frightened you may be about to lose some or all of your teeth;
you have recently lost/ started to lose your teeth but don't want dentures (false teeth);
you currently have dentures and don't like wearing them;
you can't wear dentures because they make you gag or choke
Why choose Winning Smiles?
Winning Smiles have been doing private adult cosmetic dentistry for 15 years. We have fitted around 1,000 dental implants, and have the latest technology to make our service accurate, comfortable and considerate.
We place the health of your teeth at the heart of every decision we make and we always explain and talk through all your options with you. We practice pain free dentistry.
The Free Consultation
Without seeing things for ourselves, we can't tell people what their options are.
And so with that in mind, we are happy to offer free consultations, as this is a big decision for most people. We are careful to take budget, comfort and appearance into account when explaining all the available choices and there is never any pressure to proceed, and certainly not on the day.
We set out to be a friendly practice and try to provide everybody with what's right for them, at an affordable cost. We hope our dentist reviews give that impression.
Implant Price List
| | |
| --- | --- |
| Dental Plan Membership | It is free to join |
| Cost per Month | £18.90 |
| Assessment | Member Prices |
| Case Assessement | £158 |
| CT Scan | £165 |
| Denture Pricing | Member Prices From: |
| Partial Acrylic Dentures | £331-£646 |
| Full Dentures (per jaw) | £1,200 |
| Temporary Denture | £415 |
| Chrome Denture | £1500 |
| Dental Implant Treatment | Member Prices From: |
| Single Tooth Implant Surgery | £1,175 |
| Crown Single Tooth | £1,075 |
| Lower Implant Denture - on two simple implants | £5,000 |
| Lower Implant Denture - on four simple implants | £8,000 |
| Upper Implant Denture - on four simple implants | £8,000 |
| Titanium acrylic full upper bridge | £12,500 |
| Titanium acrylic full lower bridge | £12,500 |
| Metal Ceramic full upper bridge | £18,500 |
| Metal Ceramic full lower bridge | £18,500 |
Case Studies
Follow the links below for examples of Andrew's recent dental implant cases:
Relevant Dental Implant Articles