Charlene Nelson – Orthodontic Therapist
Dip Orth Ther RCS GDC Number 189893
Charlene is passionate about helping patients who hate their crooked teeth and refuse to smile. She helps people regain their natural beauty and confidence.
She is a compassionate, motivated and caring individual. Patients love Charlene because of her unique ability to put them at ease and make them feel comfortable.
Proficient in using various tooth straightening (brace) systems which makes her advice independent. From white or metal brackets and wires to Invisalign, Inman aligners and other removable braces, talk through the positives and downsides of all the different ways to ensure you get what you need. We serve both adults and children in private orthodontics.
Charlene completed her Certificate in Orthodontic Therapy from the University of Central Lancashire and obtained her Diploma in Orthodontic Therapy from the Royal College of Surgeons Edinburgh in 2016.
Problems we solve
A surprisingly long list of potential issues can be helped with orthodontics. Here is a list of some minor and major concerns
Teeth Straightening Problems we solve
Overbite
Underbite
Protruding Teeth
Open bite
Jaw pain
Front teeth gaps
Tooth wear and decay
Gum disease
One of Charlene's Recent Cases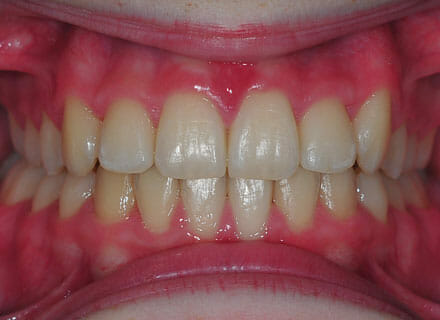 Severe crowding upper and lower teeth, canines sticking out
This lady hated her very uneven smile, all the teeth sticking out at the sides, teeth bunched together and uneven. We fitted clear brackets and a wire on the inside in the upper jaw in the roof of the mouth and in under 18 months the teeth were perfectly aligned and the patient's smile was changed forever.
FREE Dental Consultation
Without seeing things for ourselves, we can't tell people their options.
And so, with that in mind, we are happy to offer free consultations, as this is a big decision for most people. We are careful to consider budget, comfort and appearance when explaining all the available choices, and there is never any pressure to proceed, and certainly not on the day.
We set out to be a friendly practice and try to provide everybody with what's right for them at an affordable cost. We hope our dentist reviews give that impression.
Why Choose Winning Smiles?

Advanced Dentistry
We strive to keep up to date with all modern digital dentistry techniques and equipment. Our surgeries are unrecognisable from a few years ago. The precision we can achieve means longer-lasting treatments.

Orthodontics
The art and science of Orthodontic teeth straightening is one of our particular interest subjects. We do whatever we can to preserve natural teeth and give new life to smiles with cosmetic enhancements when needed.

Innovative Dentistry
Innovative dentistry is one thing we love. The industry is still developing new techniques, procedures and materials. When backed by studies, we are keen to adopt anything that improves our dentistry for patients.

Natural Teeth Beauty
Preserving the teeth is our foremost concern; they really can last a lifetime with a mixture of luck, planning and careful treatment. We would rather preserve a tooth by all means necessary than remove them to make our work easier.

Gentle Dentistry
Taking the time you need is the best way to manage pain. We never rush. We are friendly and conversational, watching for your feedback and checking with you at every step. Nervous patients can feel at home here.

Confidence and Joy
We notice how the treatment of the teeth makes people feel; confidence is the most noticeable aspect of a great smile. We think the ability to smile more is underestimated – it makes us all nicer to be around.