The Inman Aligner
The Inman Aligner is a great new treatment that can boost the confidence you have in your smile in around just 8-16 weeks. It's removable, fast and represents a totally new concept in cosmetic dentistry. It will straighten your natural teeth with less hassle and expense in a shorter period of time than any other orthodontic treatment. And because the treatment times are shorter, it also costs far less than a traditional brace!

The before and after pictures below show just what can be achieved in as little as 10 weeks. The treatment shown took one third of the time that a conventional bracket and wire treatment would have taken and cost the patient half the price.

How does the aligner compare with older, more traditional treatments?
Up until recently if you wanted to improve your smile you could choose either: a) veneers or crowns (which make your teeth look straighter by grinding away some of your healthy tooth and then bonding or cementing porcelain onto the tooth's surface)
or
b) train track or clear braces (which over a considerable number of months, align the teeth and move them into a better position)
The Inman Aligner usually does away with the need for crowns or veneers altogether The Inman Aligner is incredibly safe and involves fewer risks than veneers and crowns.

"It's a fast, safe and cost-effective treatment and the benefits can last a lifetime."
Why is it faster than treatments with traditional braces?
Because the Inman Aligner's job is solely to straighten the smile at the front of your mouth, rather than improving your bite, the treatment times can be reduced to as little as 8 to 16 weeks.
Who is the treatment suitable for?
If you can say yes to any of these questions then the Inman Aligner may be just what you are looking for:
you are unhappy with the appearance of your front teeth
you have had orthodontic treatment in the past that is now relapsing
you want a brace that is easy to insert and remove
you want the option to remove the brace for important events in your life
you want to avoid potentially invasive treatments like crowns or veneers
You want straight teeth but don't like the idea of wearing traditional train track braces that are permanently cemented in place for 12 – 24 months
How does the Inman Aligner work?
The Aligner uses very light forces to push and pull the teeth simultaneously into a better position.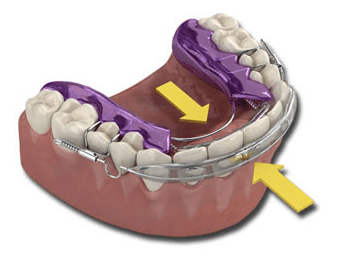 Does it hurt?
We have found that treatment with an Inman Aligner can cause some initial discomfort to the patient in the first 3-7 days. However, the level of discomfort is very similar to that experienced by patients who have been fitted with a traditional wire and bracket brace.
How visible is the Inman Aligner.
While the device is still visible, it is less visible than a conventional brace. But the Inman Aligner is removable, and if you need to take it out for a special occasions, you can.
What does the treatment involve?
After an initial short free consultation to find out whether the Inman Aligner is the right treatment for you, we carry out a detailed consultation, where we listen to what your goals are for your smile and then look thoroughly at your teeth, gums, jaws, jaw joints, and bite. In order to plan your treatment we take Impressions and photographs of your teeth and use them to simulate your tooth movements in the laboratory. We construct a bespoke Inman Aligner that is programmed just for you.
Convenient
The Inman Aligner is easy to insert and remove. It works much faster than alternative orthodontic techniques, so most patients wear their Aligner for a period of 9-16 weeks. Because it is removable, the device can be taken out for important meetings, photographs, cleaning and social events.
Ideally the device should be worn for 20 hours a day, but if you don't manage a full 20 hours it just means that treatment will take a little more time. We review progress every 2 – 4 weeks to keep your treatment on track and to ensure sure you get to the desired result in as little time as possible.
The last step is in some ways the most important. To maintain your smile in its new improved position you need to hold the teeth in place. This can be achieved either using a clear snap in retainer that is worn at night, or by gluing a retainer behind the teeth where it will not be seen but will support them in their new position.
How much does The Inman aligner cost?
An initial appointment to discuss the stages involved in treatment and assess your suitability is being offered free of charge at Winning Smiles this summer.
The Winning Smiles Orthodontics Pricelist has all the latest prices
Why choose Winning Smiles?
Winning Smiles have 15 years' experience in private adult orthodontic work. We only use tried and tested treatment methods and always put the health of your teeth at the heart of every decision we make.
What's the next step?
If you would like to know more about the Inman Aligner and find out whether its the right treatment for you, please call us to speak to one of our staff or book a short consultation. And it's currently free!
Payment Plans
To spread the cost, payment plans are available for this type of brace system, although a deposit is required for the cost of the brace, and terms and conditions do apply.
Alternatively, our traditional braces system is available from £125 per month.
The Free Consultation
Without seeing things for ourselves, we can't tell people what their options are.
And so with that in mind, we are happy to offer free consultations, as this is a big decision for most people. We are careful to take budget, comfort and appearance into account when explaining all the available choices and there is never any pressure to proceed, and certainly not on the day.
We set out to be a friendly practice and try to provide everybody with what's right for them, at an affordable cost. We hope our dentist reviews give that impression.
The Inman Aligner Price List
The following costs for The Inman Aligner are correct when written, but they can change. We will provide written pricing for each 'cosmetic treatment' as part of our free consultation.You don't have to be a member to have treatment at Winning Smiles.
| | |
| --- | --- |
| Dental Plan | £18.90 per month, free to join |
| | |
| Orthodontic Prices | Member |
| (non member prices apply to referrals as well) | |
| All Orthodontic assessments include general exam and case preparation as necessary | |
| Ortho-assessment | £195 |
| | |
| Metal Fixed Braces | |
| Full Case Assessment | £195 |
| Simple Crowding | £1,500 |
| Medium Crowding | £2,000 |
| Complex Cases | Come for a Consultation! |
| Finance | Online Application |
| Fixed Retainers | £100 per Arch |
| Removable Retainers | £150 per arch |
| Cosmetic Fixed Braces | |
| Full Case Assessment | £195 |
| Simple Crowding | £2,000 |
| Medium Crowding | £2,500 |
| Complex Cases | Come for a Consultation! |
| Finance | Online Application |
| Fixed Retainers | £100 per Arch |
| Removable Retainers | £150 per arch |
| Inman Aligners | |
| Full Case Assessment | £195 |
| Inman 1 arch | £1,800 |
| Inman 2 arch | £2,700 |
| Plus Retainers | £210/£378 |
| | |
| Invisalign | |
| Full Case Assessment | £195 |
| Invisalign Lite (<14 aligners) | £2,500 (from) |
| Invisalign Full (>14 aligners) | £2,900 (from) |
| Trutain Retainers | £150 |
| | |
| Damon/Fixed Cosmetic (self-ligating) | |
| Full Case Assessment | £195 |
| Single Arch | £3500 (£4375) or £194 per month |
| Lab Fees | £300 |
| Full Arch | £4500 (£5625) or £250 per month |
| Lab Fees | £600 |
| Plus Retainers (Free to members) | £210/£378 |
| | |
| Mouth Guards | |
| Sports Guard | £126 |
| Bite Guard | £126 |
| | |
| Payment Plans are available for all Teeth Straightening Solutions, although these may require a deposit and higher fees. | |
What they say about us
Ashleigh – Cosmetic Smile Makeover
Although I've read lots of reviews for this and that I've never actually left one, this will be my first.
I had all my fillings changed for white, a crown an inman aligner and bleaching. The results were better than I was expecting I'm very pleased with the result, and I would like to just say thank you to all at winning smiles. Not only for this but also for how accommodating they were arranging appointments due to the fact I live 140+ miles away. Thank you
Dental Review Notes
Thanks Ash for your kind words. Ash travelled all the way from Coventry to sort out his dental problems.
Dental Services: Teeth Whitening, White Fillings