Our traditional Dental Braces provide teeth straightening for a relatively low cost, and can be used on all cases from mild to complex to drastically improve your appearance.
These teeth braces are suitable for both adult and children's orthodontics.
Teeth Braces available for the lowest cost anywhere we could find at just £99 per month*
That's £99 per month
Here at Winning Smiles Orthodontic Clinic in Romford, Essex, we understand that many patients really want their crooked teeth straightened but haven't been able to afford it. It has always been our ambition to be able to offer full teeth straightening dental braces at such an attractive price as this!
How does it work?
These are traditional braces, using the familiar silver brackets and wires. The wires steadily exert pressure on the teeth to bring them into the perfect position.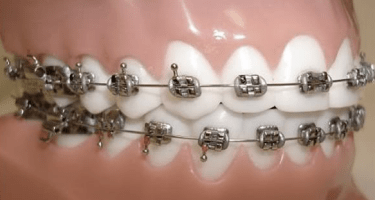 After the initial fitting, there will be short visits every six weeks or so to adjust the brackets as the teeth move into the desired position.
Treatment Time
12 – 18 months
What's the plan?
For this teeth braces option (only), you don't have to be a member to take up treatment, although we have a very good dental health plan that covers all hygiene and preventative maintenance for those that do choose to join.
We do need to carry out a full clinical examination including orthodontic x-rays and taking impressions for a one off fee of £195, and a deposit may be needed.
After that, the monthly fee of £99 per month is paid by standing order with zero interest!
Depending on how long the teeth take to move, the treatment will last between 12 and 18 months, after which we will provide you with retainers that, as with all orthodontic treatment, need to be worn post treatment to keep the teeth in place.
The only other cost that might occur is if a CT Scan is needed, for an impacted tooth for example. This is rare, and we will always tell people up front.
Terms and conditions do apply.
Alternative teeth straightening
With teeth straightening, we provide many different treatments and so we hope there is something for everyone to go as quickly or slowly as they need.
There seems to be much less of an issue in wearing braces than there ever used to be, but if invisible braces are preferred then we do have lingual options and Invisalign.
For patients who only want to straighten the front teeth, we can use the Inman Aligner, Six Month Smile, Secret Smiles (lingual orthodontics) and  Simpli5 , or possibly instant composite veneers could be an alternative option for those who prefer an Instant Result!
For more comprehensive treatments we use Damon Braces (rapid teeth straightening system using clear brackets), or Invisalign again.
The Free Consultation
Without seeing things for ourselves, we can't tell people what their options are.
And so with that in mind, we are happy to offer free consultations, as this is a big decision for most people. We are careful to take budget, comfort and appearance into account when explaining all the available choices and there is never any pressure to proceed, and certainly not on the day.
We set out to be a friendly practice and try to provide everybody with what's right for them, at an affordable cost. We hope our dentist reviews give that impression.