Tooth Replacement and Smile Makeover: Case Study
The end result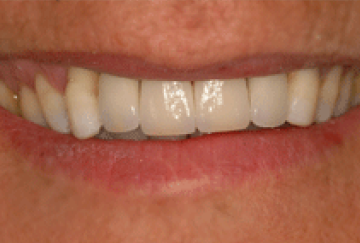 This case was one of my favourite jobs this year. In one fell swoop the patient's confidence in both the profession and her smile was returned – fantastic, no feeling like it!

Patient situation
This lady came to us having had a fall, which had knocked out one of her lateral incisors (the outer two of our four front teeth). Despite seeking advice from another dentist she had been allowed to wander around with this tooth missing; until she found Winning Smiles.
After much discussion it was also revealed that she had never liked her smile anyway – especially since both lateral incisor teeth stuck out quite prominently (one of which was of course the first to hit the ground when she fell).

Winning Smiles solution
The first thing we did was to provide an immediate temporary tooth to fill the gap. We then formulated a new treatment plan that involved some whitening, permanent replacement of the broken tooth and it's opposite number (which was sticking out) using implants – and some adjustments to the shape of the canines so that they were less prominent.

Finally, we provided veneers for her two central front teeth (central incisors) to close the gap between them, increase their size and prevent stains, which always built up on the natural teeth because of the gap.
Without seeing things for ourselves, we can't tell people what their options are.
And so with that in mind, we are happy to offer free consultations, as this is a big decision for most people. We are careful to take budget, comfort and appearance into account when explaining all the available choices and there is never any pressure to proceed, and certainly not on the day.
We set out to be a friendly practice and try to provide everybody with what's right for them, at an affordable cost. We hope our dentist reviews give that impression.
Book a Free Consultation
"*" indicates required fields