Teeth Straightening
Teeth Straightening can be achieved in a variety of ways at Winning Smiles
Immediate Veneers
Immediate Veneers can build up the teeth with a composite material that matches the existing teeth. All completed within a single visit, it is one of our most popular treatments for that wide smile.
Invisalign
is a fantastic concept to improve the appearance for crooked teeth, for whatever age you are!
Although relatively new to the UK, this is a widely used system, and over 700,000 people have completed the treatment. As a pioneering Orthodontist, Michael Fennell was one of the first to introduce the system over here. One of many orthodontic treatments available.
We believe this is one of the best ever technologies to come into orthodontics.
Modern Teeth Straightening
So, no more nasty looking train-track braces and wires, invisalign 'aligners' are transparent and fit over the teeth like an invisible 2nd skin -almost undetectable by other people, even when they're talking to you!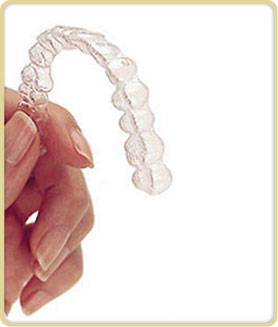 The aligners slowly move teeth into position and are worn constantly, removed only for eating and teeth cleaning.
New aligners are provided regularly and visits can be made every 6 weeks to check progress with our Orthodontist.
Previous treatment information has been kept and collated, to show new patients what can be achieved
– a significant benefit over traditional systems where reality and expectations might not meet.
As widely as mouths vary, so do treatment times, the number of aligners needed.
The Free Consultation
Without seeing things for ourselves, we can't tell people what their options are.
And so with that in mind, we are happy to offer free consultations, as this is a big decision for most people. We are careful to take budget, comfort and appearance into account when explaining all the available choices and there is never any pressure to proceed, and certainly not on the day.
We set out to be a friendly practice and try to provide everybody with what's right for them, at an affordable cost. We hope our dentist reviews give that impression.
"*" indicates required fields
Teeth Straightening Price List
The following costs for Teeth Straightening are correct when written, but they can change. We will provide written pricing for each 'cosmetic treatment' as part of our free consultation.You don't have to be a member to have treatment at Winning Smiles.
| Treatment Type | Member Pricing From |
| --- | --- |
| Routine Examination | Included |
| Routine Small x-rays | Included |
| Airflow Stain Removal - All Teeth | £35 |
| OPG (Large Panoramic X-ray) | £105 |
| New Patient Examination + two x-rays | £130 |
| Full Case Assessment - Implants | £175 |
| CT Scan | £180 |
| Whitening | £330 |
| Invisalign Braces | Price |
| --- | --- |
| Trutain Retainers | £150 |
| Full Case Assessment | £215 |
| < 30 aligners | £3245 |
| > 30 aligners | £4000 |
| Children's Treatment | Member Pricing From |
| --- | --- |
| Children (0-16) | |
| Examination (under 5 years old) | FREE |
| Fissure Sealant | £29 |
| Examination (6-16 years old) | £35 |
| Routine Hygiene if parent's on plan | £35 |
| Deciduous Filling | £37 |
| Extraction of Deciduous Tooth | £40 |
| Permanent Filling as per adult fees | |
Related Articles
Why we don't take teeth out unless we have to
Invisalign Informational Video