Invisible Fillings
Sometimes its the little jobs that make such a difference.
This chap said he had been hiding his smile for years. His main issue was the general yellowness of his teeth and an old filling in the upper central incisor.
We carried out some (minor) bleaching and replaced that old filling with a new one using Enamel Plus HFO material with Dr Lorenzo Vanini's technique – see our best white fillings blog article.
Not sure if these pictures do it justice (it may depend on your computer settings). The real-life difference was more remarkable, but I'm sure you can see the difference anyway.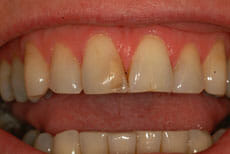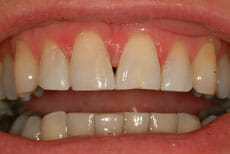 The Free Consultation
Without seeing things for ourselves, we can't tell people what their options are.
And so with that in mind, we are happy to offer free consultations, as this is a big decision for most people. We are careful to take budget, comfort and appearance into account when explaining all the available choices and there is never any pressure to proceed, and certainly not on the day.
We set out to be a friendly practice and try to provide everybody with what's right for them, at an affordable cost. We hope our dentist reviews give that impression.
"*" indicates required fields
Invisible Fillings Price List
The following costs for Invisible Fillings are correct when written, but they can change. We will provide written pricing for each 'cosmetic treatment' as part of our free consultation. You don't have to be a member to have treatment at Winning Smiles.
| Treatment Type | Price |
| --- | --- |
| Teeth Whitening | £330 |
| Airflow Stain Removal - All teeth | £35 |
| New Patient Examination | £90 |
What they say about us
Brett – Getting over the Fear
I would just like to say thank you to Andrew and his team for helping me get over my fear of dentists and injections. Two fillings and an extraction later and I can safely say that my fear has almost gone.
I would recommend Winning Smiles to anyone who has a similar phobia. I can't fault the care and reassurance that was given to me by the team. The treatment was completely painless for which I am most grateful.
Thank you
Dental Services: Cosmetic Dentistry, Painless Dentistry, Porcelain Crowns, Smile Design, Fillings
Ashleigh – Cosmetic Smile Makeover
Although I've read lots of reviews for this and that I've never actually left one, this will be my first.
I had all my fillings changed for white, a crown an inman aligner and bleaching. The results were better than I was expecting I'm very pleased with the result, and I would like to just say thank you to all at winning smiles. Not only for this but also for how accommodating they were arranging appointments due to the fact I live 140+ miles away. Thank you
Dental Review Notes
Thanks Ash for your kind words. Ash travelled all the way from Coventry to sort out his dental problems.
Dental Services: Teeth Whitening, White Fillings