Six Month Smiles
As the name brilliantly suggests, this cosmetic teeth brace system allows adults and older teenagers to get the smile they want, in just six months.
What could be better than a six month smile?
And so our Orthodontist team have another virtually invisible teeth straightening option to offer, (you'll find us in our clinic based roughly half way between Romford and Brentwood in Essex).

The benefits of Six Month Smiles
Straighter teeth are easier to clean, and therefore help in maintaining a healthy mouth and gums, which in itself can save people money in the long run
Because there are fewer visits to the orthodontist than for traditional braces, it means the price is that much lower too
Six months is amazingly short time to solve crowded teeth problems (compared to years ago)
Being quite kind on the teeth, this system uses only small amounts of force to shape the smile
These virtually invisible brackets, and teeth coloured wires
How does the Six Month Smiles treatment work?
Firstly, before you decide on treatment, our orthodontists always walk through all the options and will be clear on the improvement people can expect from each method. The most important aspect the work we do is that people walk away smiling, and happy. We try hard with the advice, the costs and the service we offer.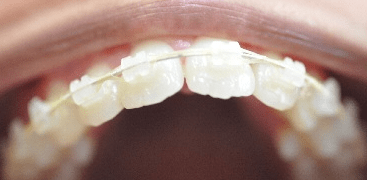 What happens first
When treatment starts, we check the teeth thoroughly with X-Rays, taking teeth impressions and 'before photographs'. Really, this is to make sure everything else is sound with the teeth and gums before attempting to move them.
These records are then sent to America, where the Six Month Smiles lab technicians custom make all of the brackets and braces needed for your personal treatment.
Once received, we will arrange with you to fit the braces at Winning Smiles.
Considerations
For crowded teeth, we will sometimes recommend removing a small amount of enamel from in between your teeth. This is a minimum amount to create space if needed. And with everything we do at Winning Smiles, this process is painless, although some treatments can be a bit uncomfortable at the time.
Patients with very severe teeth crowding problems may be advised to have a tooth removed to ensure optimum results, but we take that pretty seriously and will always explore all options before going along that route.
Appointments are booked every month to adjust and monitor the progress of the teeth towards moving into their ideal position.
What happens after the Six Month Smiles brackets are removed?
Once any of our teeth straightening treatments are completed, our orthodontists always ask patients to continue to wear retainers to reduce the risk of the teeth's natural tendency to move back to their previous position.
We can fit a permanent bonded retainer on the back surfaces of the teeth or make a night-time removable appliance to ensure the best results.
Is Six Month Smiles right for me?
Most adults would find Six Month Smiles suitable, but it may be that other treatments are best in your particular situation.
We now have plenty of choice with Inman Aligners, Lingual Braces, or even Instant Veneers as another option. We do have more comprehensive straightening with Invisalign and a new cost effective full teeth brace solution.
Our prices are listed on our Orthodontic cost page
The Free Consultation
Without seeing things for ourselves, we can't tell people what their options are.
And so with that in mind, we are happy to offer free consultations, as this is a big decision for most people. We are careful to take budget, comfort and appearance into account when explaining all the available choices and there is never any pressure to proceed, and certainly not on the day.
We set out to be a friendly practice and try to provide everybody with what's right for them, at an affordable cost. We hope our dentist reviews give that impression.
"*" indicates required fields
Six Month Smiles Price List
The following costs for Six Month Smiles are correct when written, but they can change. We will provide written pricing for each 'cosmetic treatment' as part of our free consultation.You don't have to be a member to have treatment at Winning Smiles.
| Treatment Type | Member Pricing From |
| --- | --- |
| Routine Examination | Included |
| Routine Small x-rays | Included |
| Airflow Stain Removal - All Teeth | £35 |
| OPG (Large Panoramic X-ray) | £105 |
| New Patient Examination + two x-rays | £130 |
| Full Case Assessment - Implants | £175 |
| CT Scan | £180 |
| Whitening | £330 |
| Orthodontic Prices | Member |
| --- | --- |
| (non member prices apply to referrals as well) | |
| All Orthodontic assessments include general exam and case preparation as necessary | |
| Full Case Assessment | £215 |
| Metal Fixed Braces | Price |
| --- | --- |
| 6 months / Simple Crowding | £1650 |
| 12 months / Medium Crowding | £2200 |
| 18 months | £2750 |
| 24+ months | £3300 |
| Complex Cases | Come for a Consultation! |
| Finance | Online Application |
| Cosmetic Fixed Braces | Price |
| --- | --- |
| Full Case Assessment | £215 |
| 6 months / Simple Crowding | £2200 |
| 12 months / Medium Crowding | £2750 |
| 18 months | £3300 |
| 24+ months | £3850 |
| Complex Cases | Come for a Consultation! |
| Finance | Online Application |
| Invisalign Braces | Price |
| --- | --- |
| Trutain Retainers | £150 |
| Full Case Assessment | £215 |
| < 30 aligners | £3245 |
| > 30 aligners | £4000 |
| Retainers | Price |
| --- | --- |
| Fixed retainers | £110 |
| Removable retainers | £165 |
| Mouth Guards | Price |
| --- | --- |
| Sports Guard | £145 |
| Bite Guard | £145 |
| Children's Treatment | Member Pricing From |
| --- | --- |
| Children (0-16) | |
| Examination (under 5 years old) | FREE |
| Fissure Sealant | £29 |
| Examination (6-16 years old) | £35 |
| Routine Hygiene if parent's on plan | £35 |
| Deciduous Filling | £37 |
| Extraction of Deciduous Tooth | £40 |
| Permanent Filling as per adult fees | |