Permanent Fixed Dentures
Permanent dentures level-up quality of life.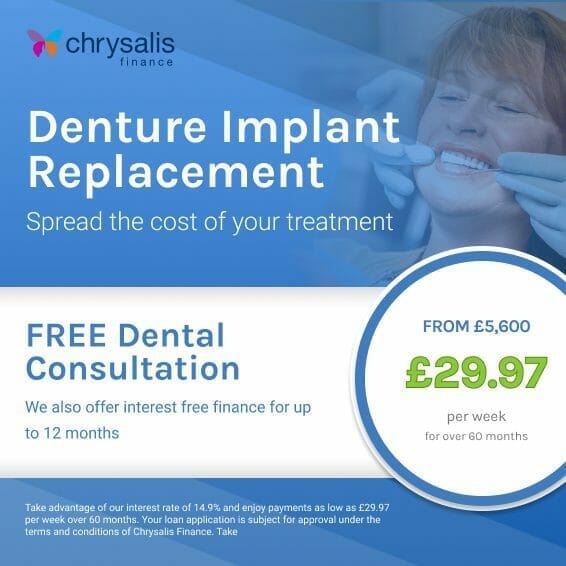 Why Replace Old Dentures
Why on earth keep them? When you can have teeth that look and feel natural and allow you to eat and enjoy your food again.
They can be embarrassing
From the constant moving around to the potential for losing their grip entirely, people live in anguished silence. Dentures constantly lurk in people's thoughts, you never drop your guard.
Dentures are uncomfortable
From getting food stuck in the dentures, to rubbing and sore gums, Dentures are often uncomfortable. Often wearing dentures makes the wearer gag.
You can't taste your food
Traditional dentures are big, bulky and cover the palate, meaning that eating food becomes a daily chore. Implant Retained Dentures don't work this way.
Fix dentures, fix your life
Fixed Dentures are removable, but firmly retained. The way people feel with a new set of comfortable teeth, fixed in place, is a very real relief.


Permanent Fixed Dentures Costs
from £5,600 lower/£9,000 upper
Implant Retained Dentures use fewer implants, which then means a three-month temporary denture is required whilst implants gain stability.
These teeth provide stability but are removable for cleaning. Implant Dentures cost much less than conventional Implant Dentistry.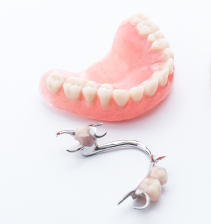 Fixed Acrylic Teeth
from £12,000
Acrylic or Composite Teeth are fitted in one day on to a strong Titanium Framework.
This option is best for stability, with no temporary denture pushing on the gum after surgery. The patient leaves the same day, with a full set of teeth. This is more comfortable, and convenient with fewer appointments.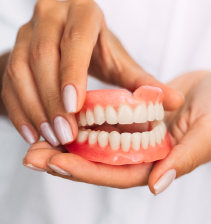 Fixed Porcelain Teeth
from £19,000
Porcelain is the ultimate in cosmetic excellence for full arch implant treatment.
These teeth can't be done in a day, so a temporary fixed bridge is fitted on the day the implants are put in. The most expensive option, they look fantastically genuine, with that translucent quality, they last.
Who Are We?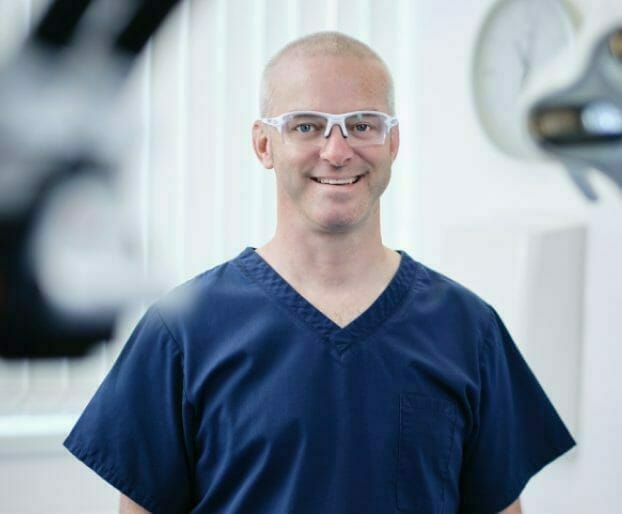 Dr Andrew Fennell (BDS Lond)
Andrew runs Winning Smiles. With thousands of implants placed, Andrew is one of the leading Implant Surgeons in the county. Andrew can often be found either poring over digital CT scans or just as often supporting other Implant Dentists to advance their cases.
Don't worry
We can always find a solution. We always respect nerves and anxiety. We are grateful for the reviews from patients who got past that, and now have healthy smiles.
Dental Innovation
For the last few years, Winning Smiles have been involved with developing techniques placing replacement teeth on the same day. It costs less, is more convenient for the patient and they look great. A real win-win.
Frequently Asked Questions
Question: What is a Dental Implant?
It is a titanium root, fixed into the jaw, to support a new tooth or teeth.
Question: What do the new teeth feel like?
You wouldn't know the difference between a dental implant and your own tooth. It's unlikely that anyone else with either!
Question: Does it hurt?
Fixed implant teeth don't hurt, as surprising as it sounds. Because the nerves are missing, it's not painful at all. There may be discomfort, and temporary teeth may be as uncomfortable as dentures are.
How long do Dental Implants Last?
The implants themselves can be variable, depending on the individual mouth. Some implants have lasted up to 15 years. The teeth themselves are replaceable leaving the Implant undisturbed.
We will do a risk assessment so that you know of any risks beforehand.
Is there Sedation Available
Yes. And either of the modern methods of tablets, or a line in the back of the hand by a trained Sedationist.
Does it matter what type of Implants are used?
Yes. The quality of bonding needs to be top notch for advanced Implants. We use the absolute best Dental Implant system that we can find.
Free Consultation
Without seeing things for ourselves, we can't tell people what their options are.
And so with that in mind, we are happy to offer free consultations, as this is a big decision for most people. We are careful to take budget, comfort and appearance into account when explaining all the available choices and there is never any pressure to proceed, and certainly not on the day.
We set out to be a friendly practice and try to provide everybody with what's right for them, at an affordable cost. We hope our dentist reviews give that impression.
Advanced Dental Implant Price List
The following costs for Advanced Dental Implants are correct when written, but they can change. We will provide written pricing for each 'cosmetic treatment' as part of our free consultation. You don't have to be a member to have treatment at Winning Smiles.
| Treatment Type | Member Pricing From |
| --- | --- |
| Routine Examination | Included |
| Routine Small x-rays | Included |
| Airflow Stain Removal - All Teeth | £35 |
| OPG (Large Panoramic X-ray) | £105 |
| New Patient Examination + two x-rays | £130 |
| Full Case Assessment - Implants | £175 |
| CT Scan | £180 |
| Whitening | £330 |
| Dental Implant Treatment | Member Pricing From |
| --- | --- |
| Implant ret denture reline | £260 |
| Implant removal | £495 |
| Implant bridge pontic | £650 |
| Minor Bone Graft | £650 |
| Cosmetic Dental Implant, Surgery and Crown | £2,350 |
| Implant bridge 5 teeth | £4,900 |
| Lower Removable Implant Denture on 2 Implants | £5,600 |
| Lower Removable Implant Denture on 4 implants | £8400 |
| Upper Removable Implant Denture on 4 Implants | £8,400 |
| Implant Full Arch Acrylic Bridge / All on Four / Teeth in a Day | £13,500 |
| Implant denture bar | £1,500 |
| Implant Full Arch Ceramic Bridge | £19,000 |
What they say about us
Barbara – No longer the Chair of Doom
Hi, i am almost at the end of my implant surgery. I have had a front tooth and one just to the side done so it was obviously very important that the implants looked good, matched the colour of my other teeth and looked like my own teeth. They do look good, they do match and they do look like i grew them myself!
Without wishing to bore you with my dental phobic history; i was a gibbering wreck, i couldn't go to work on the days i visited the dentist and quite often couldn't go the day after either!
I would guess that i must have been one of the worst cases that Andrew and his team have encountered; whimpering, yelping, whining and unable to breath – and that was just in the waiting room.
However, since finding Andrew: oh happy day, i am a changed woman!
I no longer have the fear, no longer call the dentist chair 'the chair of doom' and can go to work both before and after treatment….on the same day!
Not only has he worked miracles with my teeth he has also stopped me being terrified….no mean feat!
The team who work with him are equally great and deserve much credit as well.
If you are petrified i can only say go see him. He and the team will sort out your teeth and your fear.
Dental Services: Dental Implants, Single Dental Implants, Full Mouth Dental Implants, Painless Dentistry
I'm incredibly grateful to them.
I had advanced gum disease and missing/ failing teeth. The worse they got the harder it was to fix. I was so terrified of both the dentist and of being judged for allowing things to get so bad that I couldn't even phone. In a brave moment, I filled in the contact section of the Winning Smiles website. Denise phoned me the following day. She listened, was sympathetic and booked me in for a consultation with Andrew. At our first meeting, I had scans and Andrew explained what treatments I was suitable for. I was given detailed costs of my options and I left to consider them without pressure. I opted for both upper and lower implants. Andrew explained my best chance of a good outcome was to have immediate fixed teeth on the bottom and a temporary denture at the top while my bone grafts/implants healed and integrated. The surgery was a long day but at no point was I in any pain or discomfort. Andrew and his dental nurse Sam checked on me constantly and reassured me throughout. I left with fixed lower teeth and a temporary upper denture. The next day I was slightly swollen but much better than I had expected which I told Andrew when he phoned to check on me. The remainder of my treatment was done over the following few months without pain or stress. Fast forward to today when I had my first check-up since my upper teeth were fitted. I can't describe how thrilled I am with the final results. I smile without thinking about it, eat what I want and my general health has greatly improved. My new teeth look amazing but very natural which was exactly the look I wanted. I'm no longer terrified of the dentist and happily attend my checkups/hygiene appointments. My treatment was fantastic from start to finish and I can't recommend Andrew, Sam and the team more highly. I really wish I'd found them sooner. This has really been a life-changing experience and I'm incredibly grateful to them.