Single Dental Implant
Fitting a simple dental implant is a quick, simple and painless way to replace a single tooth (or a small number of missing teeth).
Replacing a tooth doesn't have to be a completely functional experience, however, it could form part of a plan to restore a completely natural looking smile that lasts. We are a dedicated team of implant and cosmetic dentists, with a focus on providing highly functional and fabulous looking teeth.
Who is the treatment suitable for?
It may well be the perfect solution if:
you know you are about to lose one or more teeth;
you have a failed crown;
you have a cracked or broken tooth;
you have a failed root filling;
you have a wobbly or loose tooth (or a number of loose teeth – usually from gum disease)
you have a badly decayed tooth
If you have very recently lost one or more teeth (either through sports injury or decay) we may be able to save you time and money. Visit our Immediate dental implant page to find out how, but you really will have to be quick! Immediate implants are also achievable if you know you are about to lose a tooth.
We also offer Dental Implant bridges and retained dentures for multiple missing teeth.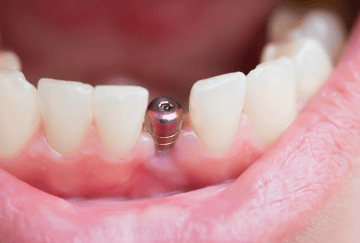 The most surprising thing about Dental Implants is that there is very little pain.
It looks like it should hurt, but the reality is that most dental pain is caused by touching a nerve on a live tooth. And, in this instance, we're removing it entirely, so whilst there is some discomfort, we provide painless dentistry as standard.
The most important ingredient is taking our time, we never rush. While the operation is being carried out your jaw is numbed so that you don't feel any pain. You can also choose to be sedated if you wish. Our patients tell us that if there are only one or two implants inserted, they are able to go back to work or resume normal activities on the same day.
What does the treatment involve?
After an initial free consultation to find out whether dental implants are the right treatment for you, we carry out a detailed assessment and x-rays using our specialist low dose dental CT scanner. Having the CT scanner in house prevents costly hospital CT referrals (up to £600!).
Then the next step is to come back for a surgical visit where we insert your implant into your jaw.
How much are Dental Implants?
We are transparent and show all charges up front, and we guarantee there will be no hidden or forgotten charges. We are offering an initial appointment to discuss treatment and assess your suitability for dental implants free of charge. If dental implants do prove to be the best way forward for you (your choice) the costs for a single implant break down would be as follows
Initial assessment Free
Implant report, models, photos, clinical investigation
Low dose dental Digital CT scan of jaw area
Simple implant fixture – surgery
Simple Implant crown, titanium post etc
As implants costs can be confusing, our full implant price list is below at the bottom of the page – no hidden costs. We will need to see you for a consultation before we can confirm precisely, as nobody can tell you all the options until after a CT scan. You can't guess at what is below the gum level, you have to see,
Benefits of CT Scanner
Winning Smiles have been doing cosmetic dentistry for 15 years. We have fitted around 1,000 dental implants.
We place the health of your teeth and mouth at the heart of every decision we make and we always explain and talk through all the options with you. And, with us, Painless dentistry comes as standard.. find out more.
Free Consultation
Without seeing things for ourselves, we can't tell people what their options are.
And so with that in mind, we are happy to offer free consultations, as this is a big decision for most people. We are careful to take budget, comfort and appearance into account when explaining all the available choices and there is never any pressure to proceed, and certainly not on the day.
We set out to be a friendly practice and try to provide everybody with what's right for them, at an affordable cost. We hope our dentist reviews give that impression.
"*" indicates required fields
Relevant Dental Implant Articles
Advanced Dental Implant Price List
The following costs for Advanced Dental Implants are correct when written, but they can change. We will provide written pricing for each 'cosmetic treatment' as part of our free consultation. You don't have to be a member to have treatment at Winning Smiles.
| Treatment Type | Member Pricing From |
| --- | --- |
| Routine Examination | Included |
| Routine Small x-rays | Included |
| Airflow Stain Removal - All Teeth | £35 |
| OPG (Large Panoramic X-ray) | £105 |
| New Patient Examination + two x-rays | £130 |
| Full Case Assessment - Implants | £175 |
| CT Scan | £180 |
| Whitening | £330 |
| Dental Implant Treatment | Member Pricing From |
| --- | --- |
| Implant ret denture reline | £260 |
| Implant removal | £495 |
| Implant bridge pontic | £650 |
| Minor Bone Graft | £650 |
| Cosmetic Dental Implant, Surgery and Crown | £2,350 |
| Implant bridge 5 teeth | £4,900 |
| Lower Removable Implant Denture on 2 Implants | £5,600 |
| Lower Removable Implant Denture on 4 implants | £8400 |
| Upper Removable Implant Denture on 4 Implants | £8,400 |
| Implant Full Arch Acrylic Bridge / All on Four / Teeth in a Day | £13,500 |
| Implant denture bar | £1,500 |
| Implant Full Arch Ceramic Bridge | £19,000 |
What they say about us
Judy – Denture Phobia
Thank goodness for Google! I searched "dental / denture phobia" and came up with the Winning Smiles website. I am 62 years old and work in a position where I am constantly dealing with people face to face. Having had dental problems for many years and having been unable to cope with regular dentures or even sitting in the dentist's chair I was at the point of considering giving up work as my dental appearance was so poor I felt constantly embarrassed and yet could not overcome my phobia to visit a dentist.
From my first contact with Winning Smiles I have nothing but praise for Andrew Fennell and indeed his whole team. I now have denture implants and can smile again for the first time in years and although I still have some work to be done I have no fear! Thank you so so much.
Treatments: Implant Retained Dentures
Dental Review Response
By Andrew
Judy thanks so much for your honesty here. So many patients are in a similar situation and they want to know that something can be done to help them overcome their nerves and sort out their dental problems.
Many patients suffer so much with their dentures that they either give up and go 'toothless' or only wear them for show – being careful never to eat in front of anyone. Dentures can be very difficult to wear – even the good ones move around quite a bit (especially in the lower jaw) – eating hard food? Forget it.
Soft foods only – and nipping to the bathroom after every meal to remove trapped food. Hardly glamorous.
About 10% of denture patients can't wear them because they cause gagging.
And why have these patients lost so many teeth in the first place? It's as Judy says – a fear of visiting the dentist (often started as a child) which keeps them away unless they are in total agony by which time it is often too late to save the tooth and the extractions start. Our first task with a patient like Judy (and there are many) is to reassure them that
1) We care
2) We understand
3)We are not going to make you feel like its all your fault (its usually a childhood dentist at fault in truth)
4) We will take all the time we need (no rushing)
5) It's never too late – we can provide a fully functioning solution.
embarrassed to laugh and smile
I have recently had teeth implants on my upper jaw and I am so pleased with the results!!! Andrew is amazing and made me feel so comfortable and at ease throughout the whole procedure.. Which I can say was painless 🙂
My dental nurse Sam was so lovely too as were all the staff!! I have always been so embarrassed to laugh and smile and now thanks to Winning Smiles and Andrew I have the confidence to be myself and not hide my mouth… Thank you so much xx