Teeth Replacement Methods
Teeth replacement options are growing steadily year on year.
New teeth materials, techniques, and technology are all adding to the choices available for replacement teeth.
Teeth Replacement Options
Whether you have one tooth, a few teeth or even a whole jaw-full missing, your choice will include thoughts of comfort, budget and lasting value. Firstly, some things to bear in mind
We can always help
Your circumstances will affect all of these choices, but we at Winning Smiles Dental Clinic are confident that for nearly everybody we see there is a solution.
Even if you have been told before that nothing can be done, we almost always can help restore the smile. Moreover, our techniques are almost certain to provide a way for you to walk out with replacement teeth on clinic day.
Before you can make any final decisions, you will always need a scan.
You can't tell what you need just by looking
It is worth emphasising that, without a full CT scan, nobody can tell you your options, not even us – and we have thousands of replacement teeth cases completed by Dr Andrew and our team. As we like to say, you can't tell just by looking.
Before any teeth replacement treatment, we take patients through the following considerations and assess their suitability for treatment. Once we have established everything you need to know, only after this will we take a Digital CT scan – it is the only way to know exactly what can be done.
We've also put together some guides to teeth replacement, depending on your situation.

As Simple Dental Implants get ever more advanced, they bring a real improvement in the quality of life. Act quickly if you lose a tooth

Winning Smiles is a state-of-the-art Dental Implant Dental Practice, and we are offering options for same-day new teeth.

A complete new set of teeth (a full arch either at the top, bottom or both) can be fitted, in a day, without the need to go anywhere near a hospital.

For the replacement of multiple teeth, Removable Implant Teeth (Implant-Dentures) represent an excellent option for comfort, appearance, function and cost:

Innovative same-day full jaw teeth replacement. Restore the quality of life with our implant-based system; they look and feel like your own teeth.

The WeldOne Dental Implant system allows us to deliver a bespoke Same-Day Teeth Replacement Service. The WeldOne Dental Implant system allows us to deliver a
It is ok to be nervous
We have practised pain management with our dentistry since the turn of the century. This is the first step towards making our patients as comfortable as possible.
But, patients who need teeth replacement can be more nervous than anyone. It can partly be because of fear of dentistry that people have avoided in the past, and they need more work done as a result.
Our team are very sympathetic, and we probably know as much as any of our nervous patients, as we have worked with nerves many times before. Often, it is as simple as taking the time to talk through what will happen and what to expect. A smile or two goes an awful long way.
Please look at our dental phobia reviews to see what nervous patients have experienced. It feels great afterwards.
Dentures
Dentures are removable teeth (also known as 'false teeth'). Not everyone realises that they can be used to replace single teeth as well as many teeth.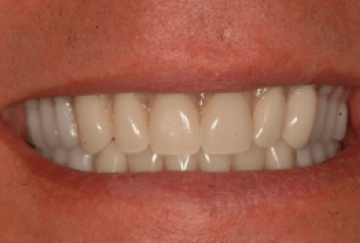 Dentures are for you if:
You need teeth replaced quickly (48 hours for emergencies)
You have old dentures which are loose, but you got on well with them when they fitted
You don't mind having bulky teeth in the mouth
You are happy taking them out for cleaning after meals
You are happy to leave your teeth out overnight
You are looking for the most economical tooth replacement treatment
Dentures can be made of Acrylic or Metal or we also make 'Flexi-dentures' now. Each material has its own advantages and disadvantage which you read about here.
Bridges
Dental bridges have been around for 100 years. Until dental implants came along dental bridges were considered the gold standard treatment for the replacement of single teeth or a number of teeth.
Bridges may be the treatment for you if:
You have sound teeth to attach to – usually either side of a gap.
You have crowns either side of a gap anyway
You are replacing an old bridge that has given good service over a long period
Your bone is not suitable for dental implants
Advantages
Can achieve excellent aesthetic results
Long lived (10 years possible)
Feel like real teeth
Quick procedure- bridges can be completed in 2 weeks
Fixed in place so don't move around (but not removable like dentures)
Less expensive than implants
Disadvantages
Requires solid teeth to fix the bridge to
Bridge support teeth have to be drilled down to make room for the bridge
Bridge support teeth will often fail in the long term because of the extra strain on them imparted by the bridge (5 yrs +)
Not suitable for replacing more than 2 teeth in a row
Not possible if large number of teeth are missing
Not possible if teeth missing do not have a solid tooth behind them to act as a back bridge support
Much more expensive than dentures
We also do Temporary Bridges
This is a sub-species of bridges called 'Maryland' or 'Rochette' bridge. These bridges are suitable for only a single tooth and glue onto the next door tooth.
They make excellent fixed 'temporary' teeth but will only last a few months – especially if they are used as temporary back teeth.
These bridges do not require drilling of the next door tooth as they simply glue on, however they are prone to dislodging and we only use them as temporaries.
Dental Implants
Titanium implants are now routinely used to replace missing teeth.
A minor surgical procedure is undertaken to gently screw a titanium implant into the bone where a tooth is missing. We do this using local anaesthetic and it is gentler than a tooth extraction! We can provide sedation for this treatment if you wish. We offer oral sedation, free of charge.
The titanium post needs to be left for a short time for the bone and gum to heal around it before it can be used to support a new tooth on top of it.
Once that happens, the titanium becomes one with the bone around it and is not visible when the patient smiles.
Dental implants can replace one, a few or all the teeth in the mouth. If many teeth need to be replaced with implants, then we do not put an implant in for every tooth that is missing. Instead, we fabricate bridges that fix onto the implants so that each implant supports more than one tooth.
Dental implants can also be used to secure dentures in place. These are called 'implant retained dentures' – super dentures that can be used to present the World News without fear of them falling out, and equally at home chewing through a juicy steak!
Advantages
Versatile – can be used to replace 1 tooth, 2 teeth or a whole mouth
Aesthetics are excellent, they look like real teeth
No drilling of next-door teeth required
Stand-alone – Implants do not rely on the patient's own teeth to secure them, so they actually relieve the load on remaining teeth. This avoids potential issues with bridges and dentures as the healthy teeth are left alone
Feel just like your own teeth
Very secure – patients eat a normal diet, implants don't fall out or move when eating/speaking
Long-lived – implants last over 10 years, the longest surviving implants have been in place for 25 years now
Disadvantages
More expensive than bridges and much more expensive than acrylic dentures
Need more upkeep than simple dentures such as regular visits to the hygienist
More difficult to clean around
Treatment time is longer (usually 12 weeks)
Free Consultation
Without seeing things for ourselves, we can't tell people what their options are.
And so with that in mind, we are happy to offer free consultations, as this is a big decision for most people. We are careful to take budget, comfort and appearance into account when explaining all the available choices and there is never any pressure to proceed, and certainly not on the day.
We set out to be a friendly practice and try to provide everybody with what's right for them, at an affordable cost. We hope our dentist reviews give that impression.
What they say about us
A smile to be proud of
I would just like to thank Andrew, Ian and all of the staff at Winning Smiles.
I have just completed my treatment, implants, crowns, orthodontics and whitening and am over the moon with the results. I found all of the staff at Winning Smiles very friendly and extremely professional. They listened to the problems I was having with my teeth, suggested solutions and explained every stage of the procedures.
I would highly recommend them as I now have a 'Winning Smile' to be proud of.
Dental Services: Dental Implants, Orthodontics, Teeth Whitening
Nervous Implant Patient
Just finished having a full set of implants, cannot recommend highly enough, from start to finish it has been a 5* journey as I'm a very nervous patient and was put at ease all the way through, with amazing results,
I now have a smile to be proud of