Porcelain Crowns
100% Porcelain Crowns. Quite simply the most beautiful and faithful imitations of natural teeth.
Crowns that are indistinguishable from real teeth – pure porcelain layered lovingly by our Master Ceramist to mimic the colour translucency and fluorescence of natural enamel.
And these crowns fit as perfectly as they appear: the core structure is computer milled for pinpoint accuracy before being hand finished under a microscope by our Master Ceramist, Stephen Fennell, who says:
Historically porcelain crowns had to have a metal substructure to be strong enough to last in the mouth.
This metal substructure blocked natural light transmission through the tooth, often leaving the crown with a rather dead appearance.

Today, with the use of enormously strong ceramic substructures we can make metal free, all porcelain crowns that have a vitality that approaches natural teeth.
Having porcelain crowns means No More:
black lines at the top of the crowns
opaque, flat, dead looking teeth that stand out like sore thumbs
misshapen "teeth" with big black triangles either side
swollen gums around in-precise crowns that never fitted properly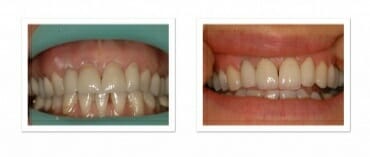 Beauty Strength and Function – with these crowns you really can have your cake and eat it!
Jo: Case Study
Jo just hated her front teeth. The "cosmetic crowns" that she had had previously due to a condition that effected the enamel on her teeth made her teeth look crooked and had black lines showing near her gums.
Jo didn't feel able to smile properly and tended to smile with her lips tightly pursed.
It took just two appointments to achieve aesthetic harmony again for Jo: she was thrilled and found her true smile in no time: the new all porcelain crowns not only looked natural but we were also able to straighten the teeth and restore her smile symmetry again.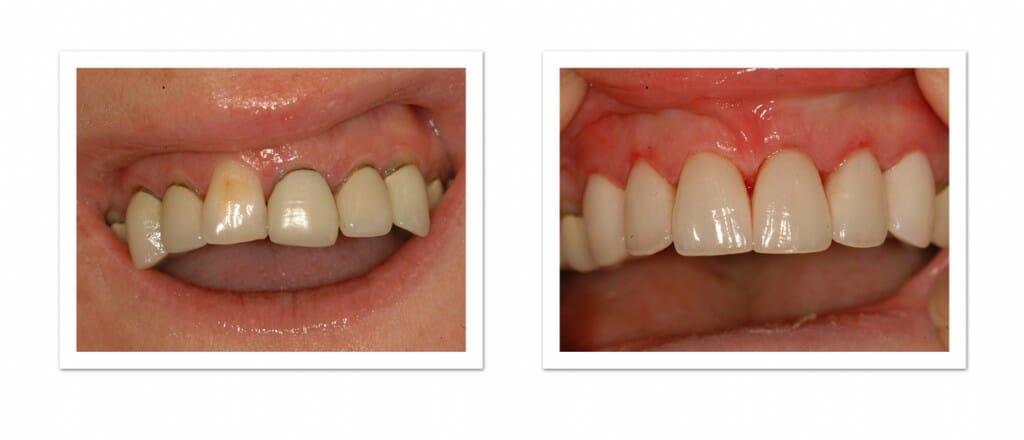 Come and see us, talk through your options. Send us a message, or call us for a chat.
The Free Consultation
Without seeing things for ourselves, we can't tell people what their options are.
And so with that in mind, we are happy to offer free consultations, as this is a big decision for most people. We are careful to take budget, comfort and appearance into account when explaining all the available choices and there is never any pressure to proceed, and certainly not on the day.
We set out to be a friendly practice and try to provide everybody with what's right for them, at an affordable cost. We hope our dentist reviews give that impression.
Porcelain Crowns Price List
The following costs for Porcelain Crowns are correct when written, but they can change. We will provide written pricing for each 'cosmetic treatment' as part of our free consultation. You don't have to be a member to have treatment at Winning Smiles.
| | |
| --- | --- |
| Veneers | Member |
| Composite Veneers, Immediate | £395 per tooth |
| Porcelain Veneers/Ceramic Crown | £738 |
| Smile Design | Free Consultation |
| | |
| Dental Plan Membership | Free to Join |
| Cost per Month | £18.90 |
| Treatment Type | Member |
| New Patient Examination | £80 |
| Whitening | £299 |
| Airflow Stain Removal - Full Mouth | £105 |
| Airflow Stain Removal - Front Teeth Only | £50 |
| Fillings | |
| Small Italian Filling | £120 |
| Medium Italian Filling | £170 |
| Large Italian Filling | £195 |
| Crowns & Bridges | Member |
| Post Prior to Crown | £160 |
| Core Prior to Crown | £95 |
| Cosmetic/Porcelain Crown | £738 |
| All Ceramic Crown | £848 |
What they say about us
Ashleigh – Cosmetic Smile Makeover
Although I've read lots of reviews for this and that I've never actually left one, this will be my first.
I had all my fillings changed for white, a crown an inman aligner and bleaching. The results were better than I was expecting I'm very pleased with the result, and I would like to just say thank you to all at winning smiles. Not only for this but also for how accommodating they were arranging appointments due to the fact I live 140+ miles away. Thank you
Dental Review Notes
Thanks Ash for your kind words. Ash travelled all the way from Coventry to sort out his dental problems.
Dental Services: Teeth Whitening, White Fillings
Christine – Creating a Natural Smile
I found the Winning Smiles website whilst looking for a dentist to replace an unsatisfactory NHS crown. The honest and straightforward approach of this site encouraged me to call and make an appointment.
Andrew welcomed me with a warm, friendly smile that made me feel at ease as I explained the reason for my visit. He completely understood why I was unhappy and said the crown could certainly be replaced with one more acceptable in looks and practicality.
We then discussed how I felt about my teeth generally and I mentioned that I had always been unhappy with my two front teeth, which were rather prominent and dominated my narrow smile. After looking at them, Andrew suggested that by having crowns on eight of my upper front teeth, I could solve both my problems and increase the width of my smile at the same time.
There was no pressure to make a decision straight away and I left to think over my choices. I decided to have the eight crowns. Although it would be a major step, and involve a lot of work, I was already confident that Andrew would provide me with the best possible result. As my treatment proceeded smoothly and painlessly I can honestly say that I looked forward to each appointment.
My transformation was completed five weeks ago and the result has exceeded all my expectations. The new crowns feel very natural so that I forget about them until I look in a mirror; then I'm really happy because I now have the smile I always wanted.
Many thanks to everyone at Winning Smiles for all their hard work.
Dental Services: Cosmetic Dentistry, Painless Dentistry, Porcelain Crowns, Smile Design