Immediate Dental Implants
If you know you are about to lose a tooth, or if you have suddenly lost a tooth, there may be a chance that you can get your tooth replaced with an 'immediate' dental implant.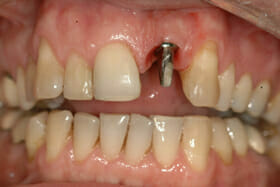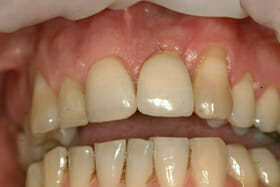 If you have lost a tooth and more than two days have gone by since it happened, you'll find lots of useful information on our Implants for Single Missing Teeth page.
If you have just lost your tooth you need to act quickly
If you have just lost a tooth (for example, as a result of a sporting injury) it may well be possible to put an implant tooth in immediately. You should act quickly though: it only takes a couple of days for the gum to grow down into the socket – and this will make it difficult to put an immediate implant in place.
If you know you are about to lose a tooth…
If you know you are about to lose a tooth, come and talk to us before your tooth comes out as this will maximise the chances of an immediate implant being possible.
We offer a free consultation with an implant dentist who will be able to advise you as to whether an implant can be fitted immediately and give you all the alternatives so that you can choose the most suitable course of treatment.
There is never any pressure to proceed, and the information is entirely free of charge.
When are immediate implants possible?'
There are two key conditions that have to be met to make an immediate implant possible:
the bone around the failing tooth must be intact;
the gum and surrounding area must be infection free.
If both these conditions are met, then it is possible to carefully extract the root and immediately put an implant directly into the tooth socket.
If the implant is sufficiently secure in the bone we can also put the titanium post in place and put a temporary crown on top. This treatment means that the patient can literally come to the clinic with a failed tooth and leave a short while later with a new implant tooth in place.
The temporary teeth look very natural and stay securely in place until the implant has healed sufficiently to put the permanent crown in place.
The advantages of an immediate implant
An immediate implant can save months of waiting for your new tooth. It will reduce the number of visits you need to make to the surgery, and the money you have to spend on preparation and surgery time.
What our customers say
Carol Abdullah from Peterborough
"Hello Andrew and the winning smiles team. I would like to say a huge "Thankyou" for the wonderful front tooth implant you did for me recently..the thought of spending the rest of my life with a front tooth missing was a pretty depressing feeling…but thanks to your knowledge and skill i now have a tooth that fits perfectly with my own…even though i had to travel from Peterborough because i just could not find a dentist that took the broken tooth out and replaced it straight away with the implant…but you did…Great stuff. X"
Why not have a browse through some more of our customer reviews and recent dental implant case studies?
For more details on how much the treatment costs, whether it hurts and what the treatment involves, please read our page on Implants for Single Missing Teeth.
Relevant links
Why not book a free consultation?
Once you know what your options are, it will become a bit clearer. We're happy to help, there's never any pressure to proceed, and we'll follow up with written recommendations.
What they say about us
Barbara – No longer the Chair of Doom
Hi, i am almost at the end of my implant surgery. I have had a front tooth and one just to the side done so it was obviously very important that the implants looked good, matched the colour of my other teeth and looked like my own teeth. They do look good, they do match and they do look like i grew them myself!
Without wishing to bore you with my dental phobic history; i was a gibbering wreck, i couldn't go to work on the days i visited the dentist and quite often couldn't go the day after either!
I would guess that i must have been one of the worst cases that Andrew and his team have encountered; whimpering, yelping, whining and unable to breath – and that was just in the waiting room.
However, since finding Andrew: oh happy day, i am a changed woman!
I no longer have the fear, no longer call the dentist chair 'the chair of doom' and can go to work both before and after treatment….on the same day!
Not only has he worked miracles with my teeth he has also stopped me being terrified….no mean feat!
The team who work with him are equally great and deserve much credit as well.
If you are petrified i can only say go see him. He and the team will sort out your teeth and your fear.
Dental Services: Dental Implants, Single Dental Implants, Full Mouth Dental Implants, Painless Dentistry
Carol A -Emergency Tooth Replacement
Hello Andrew and the winning smile team. I would like to say a huge Thank you for the wonderful front tooth implant you did for me recently..the thought of spending the rest of my life with a front tooth missing was a pretty depressing feeling…but thanks to your knowledge and skill i now have a tooth that fits perfectly with my own…even though i had to travel from Peterborough because i just could not find a dentist that took the broken tooth out and replaced it straight away with the implant..but you did…Great stuff. X