Overbite Correction
Overbite correction is one of the most common reasons patients come to our Orthodontic team – or in plain English – to reduce the amount their front teeth stick out! There are many reasons to do this.
Fixing an overbite can:
Reduce problems with eating and speaking
Reduce the risk of injuring the teeth (especially in children and sports people)
Looking good feels great
Before and After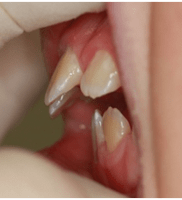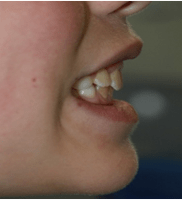 Luckily here at Winning Smiles we have plenty of ways of treating big overbites (and reversed overbites….but maybe that's one for another day!).
As with everything we do, it's all pretty logical; if you want to reduce an overbite we can either move the top teeth backwards, or move the bottom teeth forwards, or, as in most cases, a bit of both.
Moving the top teeth
To move the top teeth backwards we normally use a combination of expanding the top jaw width ways, whilst using elastic to pull the top teeth backwards. This tends to give great, broad, aesthetic smiles whilst treating the overbite.
Some dentists will frequently ask you to have 2 top teeth taken out to reduce a big overbite, so as they can pull all of the front teeth backwards; We're pleased to say that this is something we very rarely do at Winning Smiles.
We try to keep healthy teeth wherever we can, and 90% of our treatments are completed without extractions.
There are also techniques we use to try and help the lower jaw slide forwards, and in doing so move the front teeth forwards. We can do this with functional appliances in younger patients, a type of brace that uses your own growth to help correct an overbite. We can also use fixed braces with elastic to help move the lower teeth.
Methods for reducing overbite
We use three of the most sophisticated systems to help reduce overbites:
Functional appliances, including the cutting edge ALF appliance
Fixed Damon braces, proven to move teeth far quicker than traditional lower cost braces
Invisalign, clear teeth aligners
Depending on the severity of the overbite, it can be corrected in as little as 6 months, with prices from £1,200. To find out if this treatment could be appropriate for you, why not contact us for a free consultation?
Why Not Book a Free Consultation?
As ever, until we see you, we can't tell what the options are for you. So we do offer free consultations, and from there we can create the individual treatment plans
If you are tempted, then fill in the form below, and we'll contact you to arrange a convenient time.
The Free Consultation
Without seeing things for ourselves, we can't tell people what their options are.
And so with that in mind, we are happy to offer free consultations, as this is a big decision for most people. We are careful to take budget, comfort and appearance into account when explaining all the available choices and there is never any pressure to proceed, and certainly not on the day.
We set out to be a friendly practice and try to provide everybody with what's right for them, at an affordable cost. We hope our dentist reviews give that impression.
Overbite Correction Price List
The following costs for Overbite Correction are correct when written, but they can change. We will provide written pricing for each 'cosmetic treatment' as part of our free consultation.You don't have to be a member to have treatment at Winning Smiles.
| Treatment Type | Member Pricing From |
| --- | --- |
| Whitening | £330 |
| Airflow Stain Removal - All Teeth | £35 |
| New Patient Examination + two x-rays | £130 |
| Routine Examination | Included |
| Routine Small x-rays | Included |
| OPG (Large Panoramic X-ray) | £105 |
| Full Case Assessment - Implants | £175 |
| CT Scan | £180 |
| Orthodontic Prices | Member |
| --- | --- |
| (non member prices apply to referrals as well) | |
| All Orthodontic assessments include general exam and case preparation as necessary | |
| Full Case Assessment | £215 |
| Metal Fixed Braces | Price |
| --- | --- |
| 6 months / Simple Crowding | £1650 |
| 12 months / Medium Crowding | £2200 |
| 18 months | £2750 |
| 24+ months | £3300 |
| Complex Cases | Come for a Consultation! |
| Finance | Online Application |
| Cosmetic Fixed Braces | Price |
| --- | --- |
| Full Case Assessment | £215 |
| 6 months / Simple Crowding | £2200 |
| 12 months / Medium Crowding | £2750 |
| 18 months | £3300 |
| 24+ months | £3850 |
| Complex Cases | Come for a Consultation! |
| Finance | Online Application |
| Invisalign Braces | Price |
| --- | --- |
| Full Case Assessment | £215 |
| < 30 aligners | £3245 |
| > 30 aligners | £3850 |
| Trutain Retainers | £150 |
| Retainers | Price |
| --- | --- |
| Removable retainers | £165 |
| Fixed retainers | £110 |
| Mouth Guards | Price |
| --- | --- |
| Sports Guard | £145 |
| Bite Guard | £145 |
| Children's Treatment | Member Pricing From |
| --- | --- |
| Children (0-16) | |
| Examination (under 5 years old) | FREE |
| Examination (6-16 years old) | £35 |
| Routine Hygiene | £40 |
| Extraction of Deciduous Tooth | £40 |
| Fissure Sealant | £29 |
| Deciduous Filling | £37 |
| Permanent Filling as per adult fees | |
What they say about us
Gill – Adult Teeth Straightening
Having just finished my Invisalign treatment I feel I must write and thank the whole team at Winning Smiles.
Thinking at the age of 57 there was no way anything could be done for my crooked teeth. I thought I would enquire as my husband had undergone extensive implant work and the result was amazing and very successful.
I had attended an NHS dentist reqularly and thought my teeth must be in a reasonable condition, but after a consultation with Andrew I realised just how bad a condition they were in.
After a few appointments with Andrew and the Hygienist I was referred to 'Andrew's Dad' Mr Fennell for my Invisalign treatment.
It has taken about 18months but the result is really great. The standard of care throughout was professional and friendly from all of the team.
I would thoroughly recommend Invisalign, you get used to wearing the aligners almost immediately and nobody even knows you are having treatment. I am more confident now when I smile than I have ever been!
Thank you Winning Smiles once again and I look forward to my next checkup!
Dental Services: General Dentistry, Hygiene, Invisalign, Orthodontics, Painless Dentistry
Ruth – Don't be scared of sedation!
DON'T BE SCARED OF SEDATION……..IT'S BRILLIANT….TRUST ME!!!
I came in for 4 hours sedation with your FANTASTIC sedationist Doctor Damian. It was recommended as I needed 10 upper crowns and surgery to even up my gum lines. This involved a very lengthy treatment, which thankfully I was not aware of. Amazingly I was told to eat and drink before treatment. The drug process to put me to sleep was not in the least bit traumatic. It only involved a tiny needle, with just one drop at a time of the drug. When I came round, I did not feel unwell in the least (just not quite with it). It was a totally stress free experience, and I recommend it to anyone undergoing lengthy/complex work.
Andrew is also doing a brilliant job, sorting out my general and cosmetic dentistry…..BEFORE AND AFTER his clever Dad Michael straightened them for me with Invisalign.
The girls are all great too, and I am SO lucky to have found the perfect team at Winning Smiles!
Dental Services: Cosmetic Dentistry, General Dentistry, Invisalign, Orthodontics, Painless Dentistry, Porcelain Crowns