The WeldOne Full Arch System
The WeldOne Dental Implant system allows us to deliver a bespoke Same Day Teeth Replacement Service. This revolutionary new technique is mostly used for full arch, whole jaw new teeth, although it is also suitable for partial jaw treatments.
The components of the WeldOne system are tailored for the individual jaw, making the base frame incredibly stable. These are crafted at the Winning Smiles clinic, and new teeth are placed on the same day.
Building on this firm foundation, once you have chosen your tooth material, Acrylic, Composite or Porcelain/Ceramic, patients can walk away with a new set of permanent teeth.
The old way, to spend months coping with temporary teeth before transitioning to the permanent set, has been replaced.
Why is this Implant Solution Different?
The significant difference to earlier teeth replacement systems is that Weld One provides unrivalled stability.
How it Works
Weld One is the culmination of years of study and development into the best way to achieve a lasting and successful teeth replacement experience for the patient (and the Dentist too).
It is better than alternative methods because it is time-efficient and convenient which means that we can offer this approach at a competitive cost without compromising on longevity and aesthetics.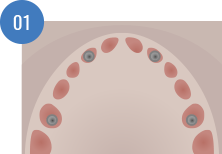 Placement of the implants
is the first step of the
restoration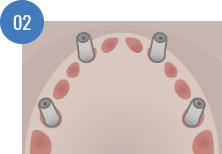 Placement of dedicated
welding abutments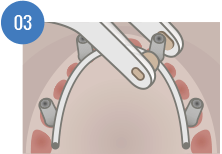 Bending, alignment and intra-oral welding of titanium wire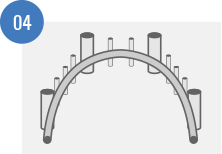 Extraoral welded retentions are added to the framework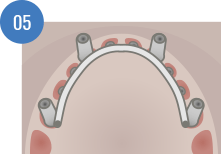 Finalized and opaque coated titanium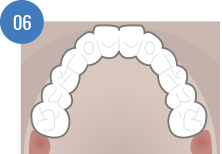 Completed Restoration
The Challenge
The mouth places tremendous pressure on teeth. The challenge is to create beautiful, natural Dental Implant Teeth that will survive for years in a harsh environment. This is the direct benefit of the weld one system.
The Search for Stability
Dental Implants bond with the bone and act as strong anchors for replacement teeth.
Individually the implants are subjected to large forces caused by biting and chewing. Any movement that occurs between the replacement teeth and the connected implants is not only inconvenient but can cause damage to the implants and the replacement teeth, which leads to early failure.
Free Consultation Request
"*" indicates required fields
Advanced Dental Implant Price List
The following costs for Advanced Dental Implants are correct when written, but they can change. We will provide written pricing for each 'cosmetic treatment' as part of our free consultation. You don't have to be a member to have treatment at Winning Smiles.
| Treatment Type | Member Pricing From |
| --- | --- |
| Routine Examination | Included |
| Routine Small x-rays | Included |
| Airflow Stain Removal - All Teeth | £35 |
| OPG (Large Panoramic X-ray) | £105 |
| New Patient Examination + two x-rays | £130 |
| Full Case Assessment - Implants | £175 |
| CT Scan | £180 |
| Whitening | £330 |
| Dental Implant Treatment | Member Pricing From |
| --- | --- |
| Implant ret denture reline | £260 |
| Implant removal | £495 |
| Implant bridge pontic | £650 |
| Minor Bone Graft | £650 |
| Cosmetic Dental Implant, Surgery and Crown | £2,350 |
| Implant bridge 5 teeth | £4,900 |
| Lower Removable Implant Denture on 2 Implants | £5,600 |
| Lower Removable Implant Denture on 4 implants | £8400 |
| Upper Removable Implant Denture on 4 Implants | £8,400 |
| Implant Full Arch Acrylic Bridge / All on Four / Teeth in a Day | £13,500 |
| Implant denture bar | £1,500 |
| Implant Full Arch Ceramic Bridge | £19,000 |
What they say about us
Upper Implant Bridge, Changed My Life
I have had my new teeth nearly 2 weeks now and could not be happier
I had a full upper implant bridge and some filling and cleaning to my existing lower teeth
Now for me, this was a big step as I had probably been to the dentist once in 10 years due to fear mainly, my teeth were in a bad way
as far as me not really going out at all anymore, not smiling at all and just hating the way they looked.
I decided to get the work done and went to a few dentists near London Bridge where I live and found that money and not my interests were at the top of their list so I decided to search further online and luckily found Winning Smiles.
From the moment I arrived I knew I was in the right place, I was comfortable straight away and after a chat, with Toni, I knew they were putting me and my needs first and that was the most important thing for me.
Once the cleaning and filing was done I had the upper implant bridge fitted , by the time the day came I was so relaxed at Winning Smiles I didn't worry too much about the surgery , I have to say Andrew Fennell was amazing all the way through and is brilliant at his job so if you need any dental work he is the man to see , the surgery was pretty much pain free and I've had just a small amount of soreness on the upper roof of the mouth that was expected and I know this is down to Andrews care when he works .
Winning smiles has changed my life and I can't thank them enough, everyone who works there from the hygienists to reception to the girls who held the tubes and wiped my face I can't tell you how nice everyone is you'll have to go and see for yourself they are amazing.
Thank you to the whole team but especially Toni who went beyond to help me and was always there if i needed her from day 1 until now so Thank You so much Toni.
Thank You to everyone at Winning Smiles you really have changed my life
Dental Services: Full Mouth Dental Implants, Painless Dentistry
The Perfect Dentist
I have finally found the perfect dentist!
I had implants done with Andrew and they are perfect, actually feel better than my real teeth and I had 2 root canal treatments with Jamie pain-free.
I used to dread dentist after years of bad experiences but I trust winning smiles 100%. I can not thank them enough for all the work done, I can finally smile!