Closing Gaps Between Teeth
Gaps between teeth is such a common problem for people, and frankly so easily fixed (without breaking the bank)!
Here at Winning Smiles we've been closing gaps between teeth for years, using our Italian composite-filling system (the same white filling composite system we use for tooth decay) – see our best white fillings blog article.
The beauty of using 'Cosmetic bonding' with a top class tooth-coloured filling system (like Enamel Plus) is that:
the teeth don't need to be cut or ground down;
it's over and done with in one visit (no waiting for crowns or veneers to come back from the lab);
it's painless, really, I don't even use anaesthetic for this technique!
So what are the drawbacks?
Nothing too serious really, I recommend having them polished once or twice a year to maintain their 'lustre' and I usually do the polishing during routine 6 month examination appointments (at no extra charge).
They can get chipped/broken, but so can veneers, the difference is that these bonded build-ups can be repaired seamlessly (chipped veneers have to be replaced completely).
And all for around £400. Something worth talking about? In fact, it's such a popular treatment I don't know why I haven't mentioned it before!
Here's an example of the before and after pictures: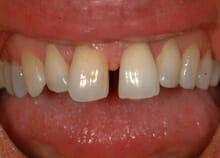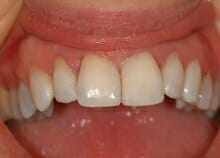 Why Winning Smiles
As well as tooth bonding, our dental team has experience in all forms of dentistry. It enables us to give a full explanation of what might be best for you with a full range of services.
We continually work on our skills and explore all the latest digital tech and procedures
We don't steer you where you don't want to go, we send you written treatment plans
Our reviews show how pleased our patients are with their new smiles
We are very careful with everything we do to reduce any level of pain, we are used to anxious and nervous patients
There are finance options available, we strive to deliver value for money
Free Consultation
Without seeing things for ourselves, we can't tell people what their options are.
And so with that in mind, we are happy to offer free consultations, as this is a big decision for most people. We are careful to take budget, comfort and appearance into account when explaining all the available choices and there is never any pressure to proceed, and certainly not on the day.
We set out to be a friendly practice and try to provide everybody with what's right for them, at an affordable cost. We hope our dentist reviews give that impression.
"*" indicates required fields