Single Dental Implants
Replacing a Tooth
Dental Implants get ever more advanced, making dental implants available to a much wider audience. It is a wonderful thing to bring a real improvement in people's quality of life over the ill-fitting dentures of years ago.
Immediate Implants
Where clinically possible, we like to be able to offer an Immediate Dental Implant, which means we carry out the extraction and immediate placement of the Dental Implant on the same day. Same-day replacements are incredibly convenient for the patient with an instant positive impact, but there are other benefits, which includes less risk of the bone receding.
Many people don't realise that leaving a space where the tooth used to be leads to a shrinkage in the bone and that this starts happening almost as soon as a tooth is removed. Over time, this makes implants harder to place because there is less bone, which makes it important to act quickly when missing a tooth. But all is not lost…we can always help.
We are proud of our reviews
Many people are naturally nervous, and you'll find we are very experienced at putting people at ease because we take the time to explain absolutely everything. You are always in control, with a very caring team that delivers as painless an experience as possible. We are proud of our many positive reviews.
External providers counts of our reviews, are independently verified, but we also have an internal review system, so we can show them through the site. Our Dental Implant reviews are here
When Reduced Bone is Available
Where the bone has reduced through a missing tooth, or as an effect of gum disease, then these cases are candidates for advanced Dental Implants which can reduce the need for surgical interventions such as bone grafting and sinus lifts- although we will do these too. We also have a very precise digital CT Scan, which can allow us more angles to find the bone. We can always help.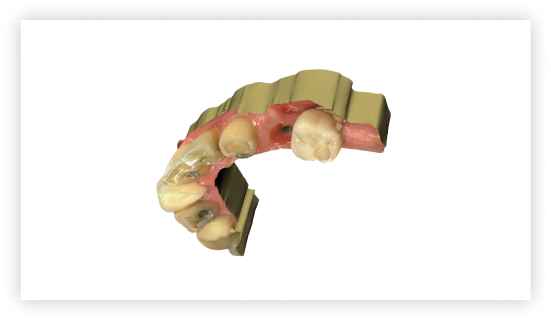 Advanced dental implants systems
These give greater stability through technology designed to instantly support the replacement teeth. And because advanced Dental Implant Systems such as Ankylos have been developed over a longer time, we have enough historical evidence to be comfortable in recommending them for immediate use (where clinically possible).
There are several important design elements
A progressive thread design is an important aspect of the Ankylos system, in particular, that enables the implant to be fixed more securely into the bone. This extra stability given by the advanced implant feature is very clear to us, they just feel more secure as we carry out the procedure. And, there are now studies that show higher implant survival rates.
Coatings have been developed to speed up the time it takes for the implant to bond with the jaw bone. For long-term success rates, it is important for the Implant to fuse with the bone and these coatings are designed to help this happen quicker.
Having multiple angled fittings into the Implant (called abutments) allows us to place these advanced implants at more angles to better seek out the sufficient amount of bone, whilst aligning the tooth to look as natural in place as possible.
Where clinically possible, we like to be able to offer an Immediate Dental Implant, which means we carry out the extraction and immediate placement of the Dental Implant on the same day. Same Day replacements are incredibly convenient for the patient with an instant positive impact, but there are other benefits which includes less risk of the bone receding.
We are very interested to hear from people who have been told they can't have dental implants. In at least 90% of cases, we can provide an option.


CT Scanner technology
The most important technology we have at the practice is our CT scanner, a superb piece of equipment that allows us to place Dental Implants with exceptional accuracy. Without this, we would be restricted in the types of Implant case we could take on.
Instead, within a few minutes, we can see the results to the nearest millimetre and know the best options for the patient.
A full 3d image of the jaws and readings for the density of bone give us that complete confidence we're doing the right thing, and most often we are able to take on the more difficult cases only because of this machine.
Benefits of CT Scanner
Accuracy: We don't have to compromise on the choice of options available to the patient
More precise work: Because we know exactly what needs doing before surgery, we can be less invasive and quicker
Convenience: We provide CT Scanner services here at the practice
Whilst our system costs are different for advanced or simple implant systems, we charge the same rate for our services whichever system we use. Because we don't load the price of the advanced systems at all, we hope you'll be sure that we're giving the best advice in the interests of the patient.
Before and After Results
Many of our patients have got to the point where they are embarrassed and find it difficult to smile. Please don't wait too long. We love seeing people who need our help, and it might be better to come in earlier.
The difference in the way you will feel after regaining your smile. It will take years off you, and eating free of any concern, especially at events, can improve your life. See what can be achieved, and then see what people say in our reviews
What to expect?
The joy of seeing a perfect looking smile in the mirror, imagine what it will feel like
We are as happy as you are when you get a new lease of life
Our Clinicians
Winning Smiles has been providing high-quality cosmetic and implant dentistry for two decades. We saw the introduction of Dental Implants as a way of transforming our patients' lives, and so it has proved. This technology is miraculous, compared to the old ways of replacing teeth, and it continues to get better. We have a dedicated clinical team continuously pushing the patient experience to be as good as it can be. Its our people who make this clinic the kind and caring place our patients deserve.
Dental Implantologist
Dr Andrew Fennell is the clinical director at Winning Smiles. He leads the Winning Smiles team while devoting his clinical time to cases involving dental implants, crowns and full mouth rehabilitation restoring beauty and function to patients with complex problems.
Implant Dentist
Jonathon graduated from Cardiff in 2013, worked in Somerset and Suffolk before coming to Winning Smiles. He is interested in Implants and restorative dentistry, making natural teeth look good and replacing teeth if they have been lost.
FREE Dental Consultation
Without seeing things for ourselves, we can't tell people what their options are.
And so with that in mind, we are happy to offer free consultations, as this is a big decision for most people. We are careful to take budget, comfort and appearance into account when explaining all the available choices and there is never any pressure to proceed, and certainly not on the day.
We set out to be a friendly practice and try to provide everybody with what's right for them, at an affordable cost. We hope our dentist reviews give that impression.
Advanced Dental Implant Price List
The following costs for Advanced Dental Implants are correct when written, but they can change. We will provide written pricing for each 'cosmetic treatment' as part of our free consultation. You don't have to be a member to have treatment at Winning Smiles.
| Treatment Type | Member Pricing From |
| --- | --- |
| Routine Examination | Included |
| Routine Small x-rays | Included |
| Airflow Stain Removal - All Teeth | £35 |
| OPG (Large Panoramic X-ray) | £105 |
| New Patient Examination + two x-rays | £130 |
| Full Case Assessment - Implants | £175 |
| CT Scan | £180 |
| Whitening | £330 |
| Dental Implant Treatment | Member Pricing From |
| --- | --- |
| Implant ret denture reline | £260 |
| Implant removal | £495 |
| Implant bridge pontic | £650 |
| Minor Bone Graft | £650 |
| Cosmetic Dental Implant, Surgery and Crown | £2,350 |
| Implant bridge 5 teeth | £4,900 |
| Lower Removable Implant Denture on 2 Implants | £5,600 |
| Lower Removable Implant Denture on 4 implants | £8400 |
| Upper Removable Implant Denture on 4 Implants | £8,400 |
| Implant Full Arch Acrylic Bridge / All on Four / Teeth in a Day | £13,500 |
| Implant denture bar | £1,500 |
| Implant Full Arch Ceramic Bridge | £19,000 |
Spread the cost of your treatment 0%
Don't let upfront costs get in the way of important dental treatment. We offer interest-free finance up to 12 months and you can book your treatment immediately.
You will need to complete a simple, online credit application, which one of our team can help you with or you can apply now. Click on the button below to proceed.

What they say about us
Gill – Adult Teeth Straightening
Having just finished my
Invisalign treatment
I feel I must write and thank the whole team at Winning Smiles. Thinking at the age of 57 there was no way anything could be done for my crooked teeth. I thought I would enquire as my husband had undergone extensive implant work and the result was amazing and very successful. I had attended an NHS dentist reqularly and thought my teeth must be in a reasonable condition, but after a consultation with
Andrew
I realised just how bad a condition they were in. After a few appointments with Andrew and the
Hygienist
I was referred to 'Andrew's Dad' Mr Fennell for my Invisalign treatment. It has taken about 18months but the result is really great. The standard of care throughout was professional and friendly from all of the team. I would thoroughly recommend Invisalign, you get used to wearing the aligners almost immediately and nobody even knows you are having treatment. I am more confident now when I smile than I have ever been! Thank you Winning Smiles once again and I look forward to my next checkup!
Dental Services: General Dentistry, Hygiene, Invisalign, Orthodontics, Painless Dentistry
Rob – Rebuilding my Smile
After two weeks with my fab new smile, I feel inspired to share my experience.
From my first meeting and consultation with Andrew Fennell, I felt comfortrouble and at ease, a first for me I'm afraid, previous dentists must have studied at Dewhurst I think, nuff said.
I had a series of missing, loose and broken crowns, and my smile had disappeared and distorted over time. Andrew offered different options to rebuild the smile, we worked out the most cost effective way in my case would be a bridge, great, compared with dentures I was offered everywhere else this was fantastic and I was very happy to start treatment.
Winning Smiles attitude to pain management must be commended! That for me was a very big fear and what kept me away from a dentist for too long. The painless injection system used by Andrew was the most reassuring experience possible, from then on I was happy to go through hours of work and even have a laugh during treatment at times, amazing. Other patients reading this will know what I mean when I talk about the synergy between Andrew and his nurses during treatment, it's almost like going to a gig with the level of intuition and communication on display, and has changed my mind about dentists forever (well some anyway).
So having also seen Andrew blow a mean blues harmonica, I can understand this better!
The skill and communication on display between Andrew, and the entire team are what makes Winning Smiles brilliant. The atmosphere, the statue, the smiles on the faces of other waiting clients, just make the whole experience really enjoyable.
My smile recommends Winning Smiles to everybody I meet. Thank you all and see you soon no doubt for hygienist and other delights. 

Dental Services: Cosmetic Dentistry, General Dentistry, Hygiene, Dental Implants, Painless Dentistry, Porcelain Crowns, Smile Design
Why Choose Winning Smiles?
Winning Smiles have been doing private adult cosmetic dentistry for 20 years. We have fitted around 5,000 dental implants, and have the latest technology to make our service accurate, comfortable and considerate.
We place the health of your teeth at the heart of every decision we make and we always explain and talk through all your options with you. We practice pain-less dentistry.

Advanced
Modern techniques and materials have enhanced dentistry. Teeth can work better, look fantastic all achieved in much less time.

Qualified
The team at Winning Smiles consult with leading practitioners all over the world, to enhance the skills we need for top class dentistry

Innovative
To provide our patients with the very best that modern dentistry can offer, we constantly seek to improve our service.

Accurate
With an in house Digital CT Scanner, there are no surprises. All treatment is planned with precision.

Considerate
We practice pain-free dentistry, and patient centred care. It is natural to be concerned, but there is never any need for discomfort.

Beautiful
Natural teeth can be breathtakingly beautiful, we are proud to create and restore teeth to the way nature intended