Why Choose Winning Smiles
There are personal preferences in choosing your dental care service providers, and we completely understand that. High-quality dentistry and state-of-the-art technology focused on cosmetic and aesthetic dentistry, dental implants and orthodontics. Here in Winning Smiles, we will provide you with that smile that you've always dreamed of.
Have you ever been told you can't have dental Implants?
It's surprising how often a new client turns up in my office and tells me – unhappily – how they have been told they can't have dental implants because their jaw has the wrong sort of bone, not enough bone, or bone in the wrong place.
It reminds me of that classic excuse that train operators used to trot out every time a train was late in the Autumn "train delayed due to leaves on the line"!
My question when faced with such a statement is always "How does your dentist know you don't have enough bone for dental implants?" And likely as not the answer will be that 'they had a look and took an x-ray.
Ask for a CT Scan
The truth is no one knows how much bone you have in your jaw until they take a CT scan. Modern digital dental CT scanners create a 3D model of the jaw, which is accurate to within half a millimeter. The model can be viewed from any angle, sliced and diced, examined and measured.
If there is bone available, it will be immediately apparent.
Simply looking in the mouth will give no clue as to the bone available, 2D conventional dental X-rays can give only a limited view, so before you decide that you are unsuitable for dental implants, ask for a CT scan.
Longer Lasting Dental Implants?
At Winning Smiles, everything we do is to ensure that our implants last the longest time possible.

Regular check-ups and routine maintenance will help keep your implants in tip-top shape. There is no such thing as "fit and forget" when it comes to implants.

We will provide a clear, well-defined follow-up protocol for each patient, tailored to individual needs. You don't have to worry about empty longevity promises as we set our expectations right.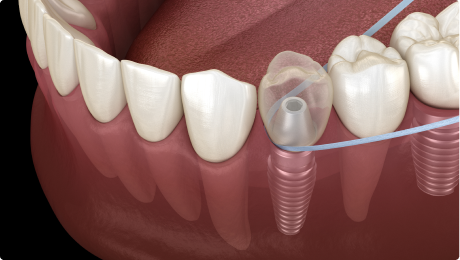 Implant Failure
Dental implants can and do fail both short and long-term.

It will happen, eventually. The question is not "if" but "when".. Our team of experts are here to help.
Pain Management
You may have heard of the dental wand, but this is for you if you haven't seen it and want to know how it works.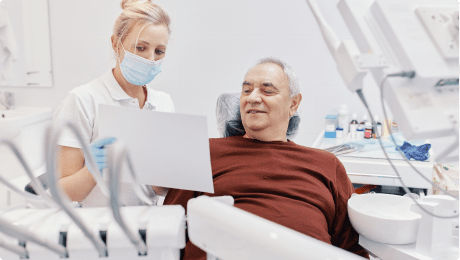 How Do We Fix Failing Implant Treatment
Firstly, we need to define 'when things go wrong'. Generally, the reasons why an implant can go wrong can vary depending on how long it was from the initial fitting.
First few weeks
Early Failure
Integration failure
Osseointegration
Acute Infection
Implant Rejection
After 2-20 years
Long term Failure
Peri-implantitis
Bone Loss
Fracture of Superstructures
Chronic Infection
But, you don't have to suffer in silence. With the advancement of technology, we can fit and replace your new implants with new ones as quickly as possible depending on your case. We offer free consultations.
Without seeing things for ourselves, we can't tell people what their options are.
And so with that in mind, we are happy to offer free consultations, as this is a big decision for most people. We are careful to take budget, comfort and appearance into account when explaining all the available choices and there is never any pressure to proceed, and certainly not on the day.
We set out to be a friendly practice and try to provide everybody with what's right for them, at an affordable cost. We hope our dentist reviews give that impression.
Book a Free Consultation
"*" indicates required fields

Advanced
Modern techniques and materials have enhanced dentistry. Teeth can work better, look fantastic all achieved in much less time.

Qualified
The team at Winning Smiles consult with leading practitioners all over the world, to enhance the skills we need for top class dentistry

Innovative
To provide our patients with the very best that modern dentistry can offer, we constantly seek to improve our service.

Accurate
With an in house Digital CT Scanner, there are no surprises. All treatment is planned with precision.

Considerate
We practice pain-less dentistry, and patient centred care. It is natural to be concerned, but there is never any need for discomfort.

Beautiful
Natural teeth can be breathtakingly beautiful, we are proud to create and restore teeth to the way nature intended