A Few Missing Teeth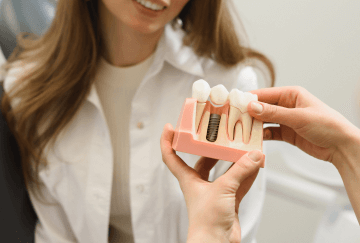 Dental Implant Bridges are one of the most lifelike and natural-looking solutions out there for replacing a few missing teeth. The teeth are porcelain which fit over a metal structure inside the mouth. This gives a secure and realistic solution.
They can be used for anything from 2 teeth to a whole jaw, but the real benefit is that because of the 'bridge', fewer implants need to be used. Not only does this mean better surgery for you, it also makes it more cost-effective for what you receive.
It can even be as little as 2 implants for 4 teeth. The historical alternative are traditional dental bridges which do have their downsides.
Dental Bridges
Dental bridges have been around for 100 years. Until dental implants came along dental bridges were considered the gold standard treatment for the replacement of single teeth or a number of teeth. Bridges require some sound teeth to attach to – usually either side of a gap.
Advantages of bridges
Can achieve excellent aesthetic results
Long lived (10 years possible)
Feel like real teeth
Quick – bridges can be completed in 2 weeks
Stay put and don't move around
Fixed in place (not removable like dentures)
Less expensive than implants
Disadvantages
Require solid teeth to fix to
Bridge support teeth have to be drilled down to make room for the bridge-bridge support teeth will often fail in the long term because of the extra strain on them (5 yrs +)
Not suitable for replacing more than 2 teeth in a row
Not possible if large number of teeth are missing
Not possible if teeth missing do not have a solid tooth behind them to act as a back bridge support
More expensive than dentures
Cost from £2,900 – We also provide temporary Bridges which cost from £386
Free Consultation
Without seeing things for ourselves, we can't tell people what their options are.
And so with that in mind, we are happy to offer free consultations, as this is a big decision for most people. We are careful to take budget, comfort and appearance into account when explaining all the available choices and there is never any pressure to proceed, and certainly not on the day.
We set out to be a friendly practice and try to provide everybody with what's right for them, at an affordable cost. We hope our dentist reviews give that impression.
"*" indicates required fields
What they say about us
Anxious Patient – Delighted
I have just finished my treatment with Winning Smiles, I had three single porcelain implants. I cannot praise Andrew and his team highly enough. I was a very anxious patient, but they have reassured and made me comfortable during every visit.
I am absolutely delighted with the treatment I have received, and would highly recommend Andrew and the Winning Smiles team
No judgment dentistry – This is a safe space
I was so nervous when I contacted winning smiles as I had not seen a dentist for some time and knew my gums were a mess and my bottom 2 teeth were very loose. Denise contacted me the following day, she was so kind and sympathetic as I was so nervous about seeing the dentist.
I did not want to be judged for having not had any treatment for so long. Denise reassured me that my consultation with Andrew Fennell would be judgemental free and very professional. I booked to see Andrew a few weeks later and from that day all I can say is that I have never looked back.
Before my implant treatment, I have had several intense treatments for my gum disease with Anita Sarkadi.
Anita has been amazing, treating my gum disease over several months and there has now been a vast improvement in my gum health.
Andrew and Sam – what can I say -over several months I have had treatment for dental implants for my bottom two teeth.
The treatment was almost painless as advertised and knowing how scared I was this was a blessing.
I can not thank you both for your patience, and the professionalism and kindness that you showed to me.
I now have the confidence to smile again!
Thank You.
Antoinette