Denture Replacement
The Latest in Implant Retained Dentures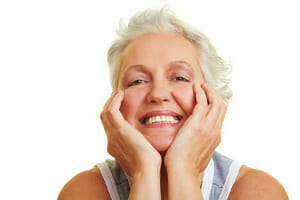 Why Replace Old Dentures
Why on earth keep them? When you can have teeth that look and feel natural and allow you to eat and enjoy your food again. See some before and after cases below
Dentures are uncomfortable
From getting food stuck in the dentures, to rubbing and sore gums, Dentures are often uncomfortable. Often wearing dentures makes the wearer gag.
They can be embarrassing
From the constant moving around to the potential for losing their grip entirely, people live in anguished silence. Dentures lurk constantly in the back of people's thoughts, you never drop your guard.
You can't taste your food
Traditional dentures are big, bulky and cover the palate, meaning that eating food becomes a daily chore. Implant Retained Dentures don't work this way.
Fix dentures, fix your life
Fixed Dentures are removable, but firmly retained. The way people feel with a new set of comfortable teeth, fixed in place, is a very real relief.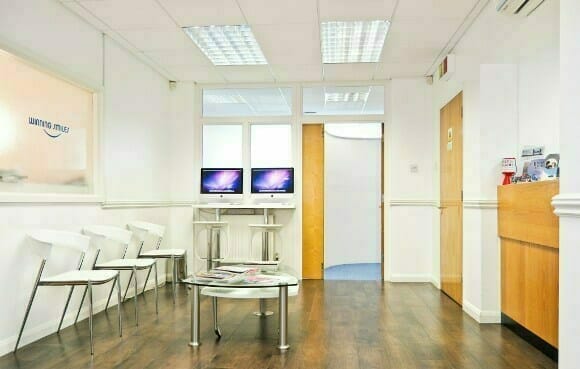 The Free Consultation
Without seeing things for ourselves, we can't tell people what their options are.
And so with that in mind, we are happy to offer free consultations, as this is a big decision for most people. We are careful to take budget, comfort and appearance into account when explaining all the available choices and there is never any pressure to proceed, and certainly not on the day.
We set out to be a friendly practice and try to provide everybody with what's right for them, at an affordable cost. We hope our dentist reviews give that impression.
Parking Available at the Clinic
Implant Retained Dentures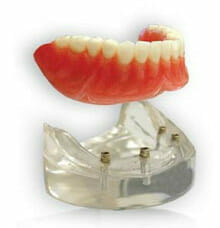 Option: Implant Retained Denture
---
Implant Retained Dentures use fewer implants, which then means a three-month temporary denture is required whilst implants gain stability.
These teeth provide stability but are removable for cleaning.
Implant Dentures cost much less than conventional Implant Dentistry.
from £5,600 lower/£9,000 upper
Alternative Options:
Fixed Acrylic Teeth
---
Acrylic or Composite Teeth are fitted in one day on to a strong Titanium Framework.
This option is best for stability, with no temporary denture pushing on the gum after surgery. The patient leaves the same day, with a full set of teeth.
This is more comfortable, and convenient with fewer appointments.
from £12,000
Option: Fixed Porcelain Teeth
---
Porcelain is the ultimate in cosmetic excellence for full arch implant treatment.
These teeth can't be done in a day, so a temporary fixed bridge is fitted on the day the implants are put in.
The most expensive option, they look fantastically genuine, with that translucent quality, they last.
from £19,000
---
Who Are We?
Dr Andrew Fennell (BDS Lond)
Andrew runs Winning Smiles.
With thousands of implants placed, Andrew is one of the leading Implant Surgeons in the county. Andrew can often be found either poring over digital CT scans or just as often supporting other Implant Dentists to advance their cases. Andrew is married with 3 children.
Dental Innovation
For the last few years, Winning Smiles have been involved with developing techniques placing replacement teeth on the same day. It costs less, is more convenient for the patient and they look great. A real win-win.
Don't worry
We can always find a solution. We will never hurt anyone, and we will always respect you.
---
Before and After Photos
Immediate Implants/Teeth in a Day, before and after

Acrylic Titanium Bridge, before and after

Porcelain Upper Bridge, before and after

---
Frequently Asked Questions
Question: What is a Dental Implant?
It is a titanium root, fixed into the jaw, to support a new tooth or teeth.
Question: What do the new teeth feel like?
You wouldn't know the difference between a dental implant and your own tooth. It's unlikely that anyone else with either!
Question: Does it hurt?
Fixed implant teeth don't hurt, as surprising as it sounds. Because the nerves are missing, it's not painful at all. There may be discomfort, and temporary teeth may be as uncomfortable as dentures are.
How long do Dental Implants Last?
The implants themselves can be variable, depending on the individual mouth. Some implants have lasted up to 15 years. The teeth themselves are replaceable leaving the Implant undisturbed.
We will do a risk assessment so that you know of any risks beforehand.
Is there Sedation Available
Yes. And either of the modern methods of tablets, or a line in the back of the hand by a trained Sedationist.
Does it matter what type of Implants are used?
Yes. The quality of bonding needs to be top notch for advanced Implants.
We use the absolute best Dental Implant system that we can find.
Book your Free Consultation?
Without seeing you, we can't tell you your options. There are always big decisions to be made, and having all the facts will make it easier. There is never any pressure to proceed, and certainly not on the day – we hope our reviews give that impression.
Testimonials
"What a good job. I had a cyst in my jaw bone which had eaten a hole through the bone and made matters more complicated as it had exposed the nerves in my face and I could not have a bone implant but all the time Alan and Andrew were still confident they could help me."
Sue, Billericay
"Without wishing to bore you with my dental phobic history; i was a gibbering wreck, I couldn't go to work on the days i visited the dentist and quite often couldn't go the day after either!"
I would guess that i must have been one of the worst cases that Andrew and his team have encountered; whimpering, yelping, whining and unable to breathe – and that was just in the waiting room. However, since finding Andrew: oh happy day, I am a changed woman!"
Barbera, Romford
"I could write a page on how bad my teeth were before I first visited Winning Smiles. I'd got to the stage where my fear of dentists was outweighed by the embarrassment I felt by their condition.
A consultation with Andrew put me at ease and gave me hope that something could be done. He doesn't see the neglect, he sees the end result. Doesn't berate you like a naughty child (had that a few times in the past!) but treats you as an adult needing his help and expertise."
Why not drop us a note with the form above, and we'll contact you
Denture Replacement Price List
The following costs for Denture Replacement are correct when written, but they can change. We will provide written pricing for each 'cosmetic treatment' as part of our free consultation.You don't have to be a member to have treatment at Winning Smiles.
| | |
| --- | --- |
| Dental Plan Membership | |
| Cost per Month | £19.90 |
| Assessment | Member Prices From |
| Full Case Assessment - Implants | £175 |
| CT Scan | £180 |
| Denture Pricing | Member Prices From |
| Partial Acrylic Dentures | £450-£800 |
| Full Dentures (per jaw) | £1,650 |
| Temporary Denture | £420 |
| Chrome Denture | £1500 |
| Dental Implant Treatment | Member Prices From |
| Implant Full Arch Ceramic Bridge | £19,000 |
| Implant bridge 8 teeth with surgery | £12,000 |
| Implant retained denture on 4 implants | £9,000 |
| Lower implant retained denture on 2 implants | £5,600 |
| Implant bridge 5 teeth | £4,900 |
| Implant surgery | £1,200 |
| Implant crown imps | £1,150 |
| Implant denture bar | £1,150 |
| Minor Bone Graft | £650 |
| Implant removal | £495 |
| Implant bridge pontic | £600 |
| Implant ret denture reline | £260 |