How Many Dental Implants do I need
Fewer dental implants is the way to go when it comes to replacing all the teeth in the upper/lower jaw
Less is more.
Historically (which for implant dentistry means over 5 years ago) it was assumed that one needed as many implants as possible to support a full set of teeth in the upper or lower jaw.
Glib terms like 'belt and braces' approach were bandied about – with no evidence other than a vague feeling that 'more is better'.
How many dental implants is enough?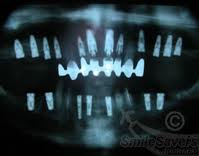 As per the image above (not from one of our studies), of both jaws full of dental implants, it was 'felt' that the more implants that were used, the 'stronger' the teeth would be, the longer they would last.
Furthermore it was 'felt' that if an implant failed after insertion – then this would not be a problem because of all the 'redundancy' built into the case…. Redundancy is the correct word in this context because in a case where 10 implants have been placed (see above) 40% of them are redundant!
Why don't we need 10 dental implants?
There are two answers to this question
1) the physical strength of titanium implants is high enough that – in most cases – 4 implants will be perfectly strong enough to support a bridge with a full set of teeth on it for years. This has been proven by the All on 4 concept developed by Nobel Biocare in conjunction with the Malo Clinic in Portugal – a treatment now used worldwide.
2) The chance of implant failure immediately after surgery should be so low that it would be over-treatment to put extra implants into every patient 'in case of post operative failure'
The dental implant failure-rate of each clinic is a factor here…
There is a caveat. At Winning Smiles we have a record of post operative failure of 1 in 250 implants over the last 10 years- so it is quite safe for us to say that we don't need 'spares' in every case. In those cases where there has been an initial failure, because we only use 4 or 6 implants, there is always bone available in between the replace the very occasional early failure.
However if the implants were failing more often….then might I be inclined to place more of them to act as spares??
We don't want 10 dental implants in each jaw because we KNOW they don't last forever
Here's the controversial bit: we know that:
1) Implants will last 15 years + in a healthy mouth, with perfect cleaning (oral hygiene), in a non smoker with no diabetes and no previous history of gum (periodontal) disease.
2) Implants will last less than 10 years in patients who smoke, are diabetic, find their oral hygiene challenging, and in some patients who have lost their teeth through gum/periodontal disease.
And long term implant failure tends to occur in crops – ie if 10 implants are placed together then they will all fail within a couple of years of each other in the long term.
So What?
When implants fail, they badly damage the bone around them
If the implant dentist has put 8, 10 or 12 implants in each jaw then they are all close together
WHEN they fail (not IF) there will be no bone left between them to allow more implants to be placed…or extensive bone grafting will be required to allow more implants to be fitted to remedy the situation and allow the patient to continue living 'denture free'.
The chance of implant failure is lower because fewer implants are easier to keep spotless – and the evidence shows that spotless implants last longer than less than spotless ones…
The advantages of placing fewer implants – in short
Simpler treatment, less traumatic
Lower cost to the patient
Often allows the case to be re-done more simply when the implants fail 7-15 years later
Reduces the need for bone grafting in the first place
Reduced the chances of needing a bone graft to place more implants in the future
Easier to clean around fewer implants – which means they will last longer
The consultation
Why not come and talk through your options? We don't charge.
At your consultation we will spend about half an hour talking to you about your dental problems and what solutions are available to you. We will also look at your mouth to help us to see what the issues are with our own eyes.
Don't worry. We will not be poking and prodding you, or taking moulds, or bombarding you with xrays and salesy-talk.
The best thing about the consultation is that you get to meet us face to face and have a real conversation about what you wish to achieve – and where relevant – what has stopped you from coming before now.
By the end of the consultation you will
Have a reasonable idea of whether you are suitable for the treatment that interests you – over 90% of patients are
Have a very good idea of what your financial investment would be
Know that we are very easy to talk to, won't patronise, and that we appreciate that people can be nervous
Know whether we can work within your time-frame ie many patients come because they have a specific event which they want to smile at like a family wedding, holiday etc
If you are happy to proceed with the next step (there is never any pressure to do this) then we will book your next appointment
We set out to be a friendly practice and try to provide everybody with what's right for them, at an affordable cost. We hope our dentist reviews give that impression.
To book a free consultation , please complete the form below to email us, and we will mail or call you back. Alternatively, call us first for a quick chat.
The Free Consultation
Without seeing things for ourselves, we can't tell people what their options are.
And so with that in mind, we are happy to offer free consultations, as this is a big decision for most people. We are careful to take budget, comfort and appearance into account when explaining all the available choices and there is never any pressure to proceed, and certainly not on the day.
We set out to be a friendly practice and try to provide everybody with what's right for them, at an affordable cost. We hope our dentist reviews give that impression.
Dental Implants Price List
The following costs for Dental Implants are correct when written, but they can change. We will provide written pricing for each 'cosmetic treatment' as part of our free consultation.You don't have to be a member to have treatment at Winning Smiles.
| | |
| --- | --- |
| Dental Plan Membership | |
| Cost per Month | £19.90 |
| Assessment | Member Prices From |
| Full Case Assessment - Implants | £175 |
| CT Scan | £180 |
| Denture Pricing | Member Prices From |
| Partial Acrylic Dentures | £450-£800 |
| Full Dentures (per jaw) | £1,650 |
| Temporary Denture | £420 |
| Chrome Denture | £1500 |
| Dental Implant Treatment | Member Prices From |
| Implant Full Arch Ceramic Bridge | £19,000 |
| Implant bridge 8 teeth with surgery | £12,000 |
| Implant retained denture on 4 implants | £9,000 |
| Lower implant retained denture on 2 implants | £5,600 |
| Implant bridge 5 teeth | £4,900 |
| Implant surgery | £1,200 |
| Implant crown imps | £1,150 |
| Implant denture bar | £1,150 |
| Minor Bone Graft | £650 |
| Implant removal | £495 |
| Implant bridge pontic | £600 |
| Implant ret denture reline | £260 |
What they say about us
Andrew was absolutely amazing
I went to Andrew Fennell with many problems
Crowns needing replacing
And needing many implants
Straight away I was put on a step by step plan of action
Visiting hygienist
Teeth whitening for readiness of implants and new crowns
Andrew was absolutely amazing all way through procedures
And I'm glad to say that my work was completed after a long journey and I'm delighted
I can smile and laugh again instead of hiding my teeth
He is Fantastic
And so are all staff
So friendly and kind
Tuesday I went back to Andrew for a check and I ended up having a wisdom tooth out there and then so I wouldn't encounter a further problem
Thank you Andrew
Thoroughly recommend this dentist
Kay
Can't emphasise the improvement in my appearance
I was recommended winning smiles by a friend of mine after a previous bad experience with another dentist.
I met Andrew for a consultation at the end of may and knew instantly he was a very decent human being but more importantly a very good dentist. During my initial appointment he explained both thoroughly and simply every stage of my treatment. Now just four months later I have a full set of upper jaw implants and two single implants on my lower jaw. I just cannot emphasis the improvement in my appearance and ability to eat everything.
Finally I just want to stress how painless the whole procedure was and have no hesitation in recommending Andrew and all the other helpful members of staff.
Thanks for everything
Dental Services: Full Mouth Dental Implants, Painless Dentistry