Invisalign Clear Braces
This system is a fantastic concept in straightening crooked teeth, for whatever age you are! Clear braces mean a private and discreet way to improve your smile.
Although relatively new to the UK, this is a widely used system, and over 700,000 people have completed the treatment. As a pioneering Orthodontist, Michael Fennell was one of the first to introduce the system over here. One of many orthodontic treatments available from us here at Winning Smiles.

We really believe this is the best ever technology to come into orthodontics. We are now also using the Itero 3d Teeth Scanning for consultations, it uses software to show you what your teeth might look like after the treatment is finished. Amazing!
Discreet
So, no more train-track braces and wires, invisalign 'aligners' are transparent and fit over the teeth like an invisible 2nd skin -almost undetectable by other people, even when they're talking to you!
No metal braces in the mouth means that you can still eat and clean your teeth during the length of the treatment.
How does it work?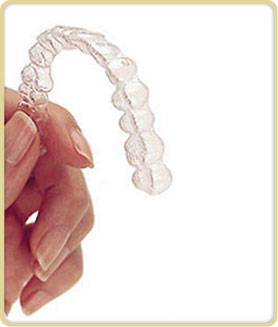 The aligners slowly move teeth into position and are worn constantly, removed only for eating and teeth cleaning.
New aligners are provided regularly and visits can be made every 6 weeks to check progress with our Orthodontist.
Previous treatment information has been kept and collated, to show new patients what can be achieved
– a significant benefit over traditional systems where reality and expectations might not meet.
As widely as mouths vary, so do treatment times, the number of aligners needed,
The costs involved are outlined on our orthodontics pricing page
We offer a free consultation for Invisalign treatment, so why not come in and see us? Drop us a note using the form below and we'll be happy to talk through what's involved.
Payment Plans
There are Payment plan available for the Invisalign type of brace system, with a deposit.
Alternatively, we do offer traditional braces systems from £99 per month, with all payment plans terms and conditions do apply.
The Free Consultation
Without seeing things for ourselves, we can't tell people what their options are.
And so with that in mind, we are happy to offer free consultations, as this is a big decision for most people. We are careful to take budget, comfort and appearance into account when explaining all the available choices and there is never any pressure to proceed, and certainly not on the day.
We set out to be a friendly practice and try to provide everybody with what's right for them, at an affordable cost. We hope our dentist reviews give that impression.
"*" indicates required fields
Invisalign Price List
The following costs for Invisalign are correct when written, but they can change. We will provide written pricing for each 'cosmetic treatment' as part of our free consultation.You don't have to be a member to have treatment at Winning Smiles.
| | |
| --- | --- |
| Dental Plan | £18.90 per month, free to join |
| | |
| Orthodontic Prices | Member |
| (non member prices apply to referrals as well) | |
| All Orthodontic assessments include general exam and case preparation as necessary | |
| Ortho-assessment | £195 |
| | |
| Metal Fixed Braces | |
| Full Case Assessment | £195 |
| Simple Crowding | £1,500 |
| Medium Crowding | £2,000 |
| Complex Cases | Come for a Consultation! |
| Finance | Online Application |
| Fixed Retainers | £100 per Arch |
| Removable Retainers | £150 per arch |
| Cosmetic Fixed Braces | |
| Full Case Assessment | £195 |
| Simple Crowding | £2,000 |
| Medium Crowding | £2,500 |
| Complex Cases | Come for a Consultation! |
| Finance | Online Application |
| Fixed Retainers | £100 per Arch |
| Removable Retainers | £150 per arch |
| Inman Aligners | |
| Full Case Assessment | £195 |
| Inman 1 arch | £1,800 |
| Inman 2 arch | £2,700 |
| Plus Retainers | £210/£378 |
| | |
| Invisalign | |
| Full Case Assessment | £195 |
| Invisalign Lite (<14 aligners) | £2,500 (from) |
| Invisalign Full (>14 aligners) | £2,900 (from) |
| Trutain Retainers | £150 |
| | |
| Damon/Fixed Cosmetic (self-ligating) | |
| Full Case Assessment | £195 |
| Single Arch | £3500 (£4375) or £194 per month |
| Lab Fees | £300 |
| Full Arch | £4500 (£5625) or £250 per month |
| Lab Fees | £600 |
| Plus Retainers (Free to members) | £210/£378 |
| | |
| Mouth Guards | |
| Sports Guard | £126 |
| Bite Guard | £126 |
| | |
| Payment Plans are available for all Teeth Straightening Solutions, although these may require a deposit and higher fees. | |
Related Articles
Why we don't take teeth out unless we have to
See Ruth's review of the invisalign treatment
Or click here for a list of Winning Smiles Cosmetic Dental Services