Dental Implant Teeth Options
Dental Implant Teeth Options: this page is designed to give people an idea of their options to replace missing teeth when using Dental Implants.
Dental Implant
We use the very best Dental Implants available, to achieve a lasting solution. There are many types available, but the design of Ankylos ticks all the right boxes for our patients, and us.
As well as the implants themselves, we design and craft the individual Tooth Crowns.
Single Implant Tooth Crowns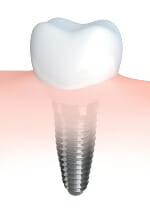 As well as the normal colour matching and getting the dimensions exactly right, we will advise on the options available for a combination of being built to last and achieving that perfect look.
Choose from a range of systems and materials.
We will always talk through the decisions and have a look at some examples when you come to see us.
A Few Missing Teeth
Simply, where multiple replacement teeth are supported by an Implant at either side, we would call this a Dental Implant Bridge.
Implant Bridged Teeth,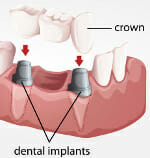 In any situation where it is possible to support more teeth with less implants, it reduces costs, making the dental implant bridge a very good option for either a few missing teeth or full arch replacements, with more options below.
As you can see, the partial fixed dentures are supported purely by the implants, and not by adjoining teeth (better than the 'old' bridges by a mile).
Prices will vary according to the number of teeth and position.
Full Arch Teeth Replacements
There are two main methods of providing full arch replacement teeth for Dental Implants
Implant Retained Dentures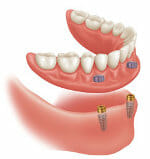 Dentures have always been cost effective, and have improved immeasurably in recent years.
By retaining removable dentures with Dental Implants it gives that best combination of cost and performance, but with greater stability. The stability effect is 'not just' improving the comfort and ability to eat and enjoy a wider range of food, but the confidence gained through what we think are now great looking replacement teeth.
Implant retained dentures start from £2,195 plus 2 fitted implants for the lower jaw, or 4 for the upper jaw.
Full Arch Acrylic Denture on Fixed Implant Teeth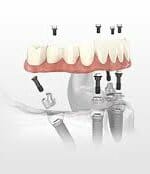 The range of options for full arch replacement teeth seems to grow daily, and they get better all the time. New systems such as All on 4, and a growing number of immediate dental implants systems allow us to deliver Teeth in a Day, a transformational experience.
The Acrylic material are more flexible, forgiving and more easily repaired than porcelain, useful during the time people are getting used to them. Most full mouth teeth replacement patients would start with these.
This is a set from an existing patient of ours, don't they look great?
Acrylic Denture Example Photo

A beautiful example of an acrylic denture on dental implants
Full Porcelain
For the full aesthetic appeal, then there simply is nothing better thant Porcelain, fixed implant teeth, hand finished, layer by layer by our master ceramicists.
Many patients will start with Acrylic Implants for the first few years, live with them (they look great don't they?), and then make the decision to replace with Porcelain some time in the future.
The Free Consultation
Without seeing things for ourselves, we can't tell people what their options are.
And so with that in mind, we are happy to offer free consultations, as this is a big decision for most people. We are careful to take budget, comfort and appearance into account when explaining all the available choices and there is never any pressure to proceed, and certainly not on the day.
We set out to be a friendly practice and try to provide everybody with what's right for them, at an affordable cost. We hope our dentist reviews give that impression.
Dental Implants Price List
The following costs for Dental Implants are correct when written, but they can change. We will provide written pricing for each 'cosmetic treatment' as part of our free consultation. You don't have to be a member to have treatment at Winning Smiles.
| | |
| --- | --- |
| Dental Plan Membership | |
| Cost per Month | £19.90 |
| Assessment | Member Prices From |
| Full Case Assessment - Implants | £175 |
| CT Scan | £180 |
| Denture Pricing | Member Prices From |
| Partial Acrylic Dentures | £450-£800 |
| Full Dentures (per jaw) | £1,650 |
| Temporary Denture | £420 |
| Chrome Denture | £1500 |
| Dental Implant Treatment | Member Prices From |
| Implant Full Arch Ceramic Bridge | £19,000 |
| Implant bridge 8 teeth with surgery | £12,000 |
| Implant retained denture on 4 implants | £9,000 |
| Lower implant retained denture on 2 implants | £5,600 |
| Implant bridge 5 teeth | £4,900 |
| Implant surgery | £1,200 |
| Implant crown imps | £1,150 |
| Implant denture bar | £1,150 |
| Minor Bone Graft | £650 |
| Implant removal | £495 |
| Implant bridge pontic | £600 |
| Implant ret denture reline | £260 |
What they say about us
Rob – Rebuilding my Smile
After two weeks with my fab new smile, I feel inspired to share my experience.
From my first meeting and consultation with Andrew Fennell, I felt comfortrouble and at ease, a first for me I'm afraid, previous dentists must have studied at Dewhurst I think, nuff said.
I had a series of missing, loose and broken crowns, and my smile had disappeared and distorted over time. Andrew offered different options to rebuild the smile, we worked out the most cost effective way in my case would be a bridge, great, compared with dentures I was offered everywhere else this was fantastic and I was very happy to start treatment.
Winning Smiles attitude to pain management must be commended! That for me was a very big fear and what kept me away from a dentist for too long. The painless injection system used by Andrew was the most reassuring experience possible, from then on I was happy to go through hours of work and even have a laugh during treatment at times, amazing. Other patients reading this will know what I mean when I talk about the synergy between Andrew and his nurses during treatment, it's almost like going to a gig with the level of intuition and communication on display, and has changed my mind about dentists forever (well some anyway).
So having also seen Andrew blow a mean blues harmonica, I can understand this better!
The skill and communication on display between Andrew, and the entire team are what makes Winning Smiles brilliant. The atmosphere, the statue, the smiles on the faces of other waiting clients, just make the whole experience really enjoyable.
My smile recommends Winning Smiles to everybody I meet. Thank you all and see you soon no doubt for hygienist and other delights. 

Dental Services: Cosmetic Dentistry, General Dentistry, Hygiene, Dental Implants, Painless Dentistry, Porcelain Crowns, Smile Design
A smile to be proud of
I would just like to thank Andrew, Ian and all of the staff at Winning Smiles.
I have just completed my treatment, implants, crowns, orthodontics and whitening and am over the moon with the results. I found all of the staff at Winning Smiles very friendly and extremely professional. They listened to the problems I was having with my teeth, suggested solutions and explained every stage of the procedures.
I would highly recommend them as I now have a 'Winning Smile' to be proud of.
Dental Services: Dental Implants, Orthodontics, Teeth Whitening