All on 4 Implant System
'All on 4' supports a Full Arch Restoration on only 4 implants, and can reduce the need for surgical interventions such as bone grafting and sinus lifts. It is a popular choice for patients and our dentists.
Because of the status of Nobel Biocare as one of the world's leading Implant companies, we get the benefit of their extensive research, testing and experience, which makes it a very safe and highly functional option.

Benefits of all on 4
We choose to offer the All on 4 system because of the advanced nature of the technology (read more about advanced dental implants)
This system can support 'immediate' loading, so we can deliver 'teeth in a day', which is one of the most satisfying things for both patient and dentist!
There is often a reduced need for surgical interventions, for sinus lifts and bone grafting
Can be used with fixed or removable implant dentures
Nobel Biocare is a trusted and globally recognised brand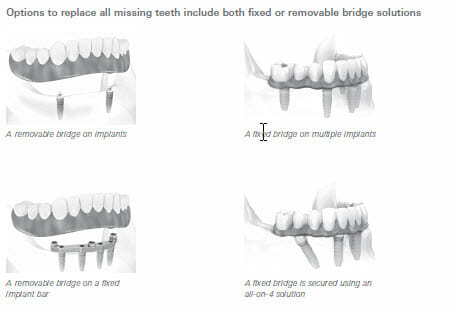 As ever, we don't believe that one solution fits all, and not everyone needs this level of technology, but we are very happy to offer it as part of our portfolio of Implant Treatments.
Precision counts
At Winning Smiles we operate an in house digital CT Scanner for 3d imaging, essential when planning to place implants. The degree and angle of bone need to be seen millimetre by millimetre. Our objective, and minimise the number of implants required where possible by creating a firm foundation and to preserve the usable bone for the future. See "how many implants do I need".
The major benefit of the precision, is that we can be confident in offering implant treatment in what might be considered difficult cases, without risk.
The free consultation
Why not come and talk through your options? We don't charge.
At your consultation we will spend about half an hour talking to you about your dental problems and what solutions are available to you. We will also look at your mouth to help us to see what the issues are with our own eyes.
Don't worry. We will not be poking and prodding you, or taking moulds, or bombarding you with xrays and salesy-talk.
The best thing about the consultation is that you get to meet us face to face and have a real conversation about what you wish to achieve – and where relevant – what has stopped you from coming before now.
By the end of the consultation you will
Have a reasonable idea of whether you are suitable for the treatment that interests you – over 90% of patients are
Have a very good idea of what your financial investment would be
Know that we are very easy to talk to, won't patronise, and that we appreciate that people can be nervous
Know whether we can work within your time-frame ie many patients come because they have a specific event which they want to smile at like a family wedding, holiday etc
If you are happy to proceed with the next step (there is never any pressure to do this) then we will book your next appointment
We set out to be a friendly practice and try to provide everybody with what's right for them, at an affordable cost. We hope our dentist reviews give that impression.
To book a free consultation , please complete the form below to email us, and we will mail or call you back. Alternatively, call us first for a quick chat on 01708 697 805
The Free Consultation
Without seeing things for ourselves, we can't tell people what their options are.
And so with that in mind, we are happy to offer free consultations, as this is a big decision for most people. We are careful to take budget, comfort and appearance into account when explaining all the available choices and there is never any pressure to proceed, and certainly not on the day.
We set out to be a friendly practice and try to provide everybody with what's right for them, at an affordable cost. We hope our dentist reviews give that impression.
All on 4 Implant System Price List
The following costs for All on 4 Implant System are correct when written, but they can change. We will provide written pricing for each 'cosmetic treatment' as part of our free consultation.You don't have to be a member to have treatment at Winning Smiles.
| | |
| --- | --- |
| Dental Plan Membership | It is free to join |
| Cost per Month | £18.90 |
| Assessment | Member Prices |
| Case Assessement | £158 |
| CT Scan | £165 |
| Denture Pricing | Member Prices From: |
| Partial Acrylic Dentures | £331-£646 |
| Full Dentures (per jaw) | £1,200 |
| Temporary Denture | £415 |
| Chrome Denture | £1500 |
| Dental Implant Treatment | Member Prices From: |
| Single Tooth Implant Surgery | £1,175 |
| Crown Single Tooth | £1,075 |
| Lower Implant Denture - on two simple implants | £5,000 |
| Lower Implant Denture - on four simple implants | £8,000 |
| Upper Implant Denture - on four simple implants | £8,000 |
| Titanium acrylic full upper bridge | £12,500 |
| Titanium acrylic full lower bridge | £12,500 |
| Metal Ceramic full upper bridge | £18,500 |
| Metal Ceramic full lower bridge | £18,500 |
What they say about us
Barbara – No longer the Chair of Doom
Hi, i am almost at the end of my implant surgery. I have had a front tooth and one just to the side done so it was obviously very important that the implants looked good, matched the colour of my other teeth and looked like my own teeth. They do look good, they do match and they do look like i grew them myself!
Without wishing to bore you with my dental phobic history; i was a gibbering wreck, i couldn't go to work on the days i visited the dentist and quite often couldn't go the day after either!
I would guess that i must have been one of the worst cases that Andrew and his team have encountered; whimpering, yelping, whining and unable to breath – and that was just in the waiting room.
However, since finding Andrew: oh happy day, i am a changed woman!
I no longer have the fear, no longer call the dentist chair 'the chair of doom' and can go to work both before and after treatment….on the same day!
Not only has he worked miracles with my teeth he has also stopped me being terrified….no mean feat!
The team who work with him are equally great and deserve much credit as well.
If you are petrified i can only say go see him. He and the team will sort out your teeth and your fear.
Dental Services: Dental Implants, Single Dental Implants, Full Mouth Dental Implants, Painless Dentistry
Winning Team at Winning Smiles
Winning Team at Winning smiles!
Grateful thanks to all the team who were a very professional, friendly and supportive particular thanks to Denise who is absolutely fabulous!
Lauren who is truly delightful and Andrew who is a star!
2 days post op after upper fixed denture and halfway through treatment feeling a little sore and swollen but already more confident and looking forward to the finished result.